OUR NEVER-ENDING AMERICAN TRAGEDY
California's gun laws are the "strongest in the U.S."
Tell that to its citizens. And its cops.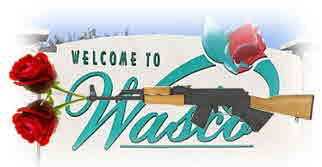 For Police Issues by Julius (Jay) Wachtel. Located northwest of Bakersfield, the placid community of Wasco lies amidst vast fields of roses, a colorful commodity that the area produces in great abundance. But on July 25 the town of about 25,000 became the latest venue of our never-ending American tragedy. That's when a deeply troubled resident, Jose Manuel Ramirez Jr., 41, opened fire with an AK-47 type rifle and a handgun, killing his wife, Viviana Ruiz Ramirez, 42, and their two sons, Jose Manuel Ramirez III, 24, and Angel Manuel Ramirez, 17.
Neighbors alerted 9-1-1 to the gunfire and reported that victims had been shot. When deputies arrived Jose Ramirez fired at them from inside the home. They backed off and summoned SWAT. Soon two armor-clad deputies approached on foot to attempt a rescue. Firing through a window, Martinez unleashed another barrage. His rounds struck and killed Deputy Phillip Campas and wounded his partner, Deputy Dizander Guerrero. Ramirez holed up for hours, then tried to climb onto the roof. Deputies shot him dead. As it turns out Ramirez was a felon, thus legally barred from possessing firearms. A domestic violence restraining order had also been issued prohibiting him from having guns.
Click here for the complete collection of gun control essays
According to the Gun Violence Archive, in 2021 the Golden State suffered twenty-eight "mass shootings" (four or more wounded or killed other than the gunman) through July 29. Our essays have mentioned several. "Two Weeks, Four Massacres" described the March 31 episode when a disgruntled middle-aged man burst into an Orange County business and opened fire with a pistol, killing four including a nine-year old. (He was wounded and captured.) Two months later another angry man packing three pistols and multiple magazines murdered nine coworkers at a San Jose rail yard, then took his own life.
Our gun massacre essays have harped about the ghastly toll for years. But a recent survey indicates that a majority of the Golden State's residents "believe gun
control laws are effective in reducing crime." A notable gun-control organization, Giffords, holds California up as a model of sanity. After all, it boasts the nation's strongest gun laws and one of its lowest gun death rates. Cause and effect! But our recent analysis of state-level data using the r statistic (it ranges from zero, meaning no relationship, to 1.0, a perfect association) found that gun laws are far less important a factor than economic conditions.
Guns don't just imperil ordinary citizens. Four-hundred fifty-seven American law enforcement officers were killed by hostile gunfire during the last decade (LEOKA Table 31). Seventy-one percent (325) fell to handgun rounds, and twenty-one percent (95) to bullets fired from rifles. Most of the carnage was produced by powerful, modern-day weapons. Sixty-six percent (214) of the handgun fatalities were caused by 9mm. and .40/.45 caliber pistols. AR-15 type (cal. 223 cal./5.56 mm.) and AK-47 type (7.62 mm.) weapons accounted for fifty-seven percent (54) of deaths from rifle fire.
It's not just about assault rifles. "Two Weeks" pointed out that "the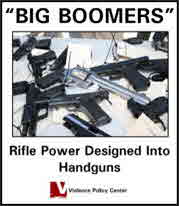 muzzle energy of ammunition fired by today's 9mm. pistols can be twice or more that of the .38's and .380's that were popular when your writer carried a badge." But when assault weapons are involved, watch out! As our Washington Post op-ed warned two years ago, even the hardiest protective vests can prove ineffective against the unseemly ballistics of military-style weapons that are routinely marketed for civilian use. LEOKA reported that sixteen of the seventeen officer deaths between 2011-2020 which involved penetration of body armor were caused by projectiles fired from rifles (Table 39). Ten were of the AR-15 and AK-47 type. The only penetration fatality attributed to a handgun was caused by the highly lethal 5.7 X 28 mm. round fired by a "big boomer" pistol, really an assault weapon in disguise.
But don't California's "strong" gun laws prohibit "assault weapons"? Technically yes, but the devil is in the details. For example, if a gun has a removable magazine, it can't sport features such as a protruding pistol grip. Wily manufacturers have adapted with a host of legal variants. Here, for example, are the
"California legal" versions of the weapons Syed Farook and Tashfeen Malik used to murder fifteen in the 2015 San Bernardino massacre (DPMS Panther Arms on the left, Smith & Wesson M&P15 on the right.) Both fire the same extremely lethal .223/5.56mm. bullet as the AR-15. Readily slicing though doors, walls, and bullet-resistant inserts in protective vests, these fearsome rounds produce massive, often unsurvivable wound cavities wherever they strike. Ballistics-wise, though, California (just like the Feds) only imposes one restriction: caliber must fall below .50. Job done!
Really, if cops could do all their work from armored cars, that's where many would prefer to remain.
Fast-forward to 2021. According to LEOKA's running count, twenty-nine U.S. law enforcement officers fell to hostile gunfire during the first six months of this year. Five served in California. Three were reportedly victims of pistol fire, and two of projectiles discharged by assault-style rifles:
Sacramento County deputy sheriff Adam Gibson, murdered on January 18, 2021 by an ex-con armed with a pistol. Another officer was wounded.

San Luis Obispo Police Department detective Luca Benedetti, murdered on May 10, 2021 by a burglary suspect armed with an assault rifle. Another officer was wounded

Stockton Police Department officer Jimmy Inn, murdered on May 11, 2021 by an ex-con armed with a pistol.

Sergeant Dominic Vaca, San Bernardino County Sheriff's Office, murdered on May 31, 2021 by an assailant armed with a pistol.

Kern County deputy sheriff Phillip Campas, one of the Wasco victims, murdered on July 25 with an assault rifle. A colleague was wounded.
Even in supposedly blessed California, lethal gunplay is so frequent that it takes a cop killing, a mass murder or some very unusual circumstances to merit a headline. That threshold was breached a few days ago when a famous "Tik Tok" influencer and his girlfriend were shot in the head while watching a movie in a darkened Corona theater. Both succumbed to their wounds. Joseph Jimenez, 20, a local resident unconnected with the couple, was arrested the following day, and the handgun he reportedly used was recovered at his residence. [It was later identified as an unserialized "ghost" gun. See 8/13/21 update.] A schizophrenic off his meds, Jimenez told authorities that "voices in his head" provoked the attack. "I wish I didn't do it," he said.
Of course, it's not just about California. New York State is also held up as a "national model" by Giffords, which ranks the Empire State's gun laws as fifth strongest in the U.S. Here's a recent headline from the New York Times:

Giffords also has high praise for Illinois. After all, its gun laws are supposedly eighth strongest. So here's a headline we originally scoured from the Chicago Tribune:
But while wrapping up this piece we learned that on Saturday evening, August 7, Chicago police officer Ella French was shot and killed and her partner was critically wounded by an occupant of a vehicle they stopped while on patrol in the Seventh police precinct. (That area, which encompasses the Englewood & West Englewood neighborhoods, is so violence-ridden that we singled it out in "The Usual Victims".) During the exchange of fire, the shooter was also wounded, and three persons are now in custody. Here's the Chicago Tribune's headline:


What to do? "A 'Ban' in Name Only" and our Washington Post op-ed suggest that firearms lethality could be measured with "a scoring system that takes characteristics such as ballistics, rapid-fire capability, lack of recoil, accuracy and portability into account." Guns that exceed certain parameters could be banned. But unless we really, really long for another American Revolution, sharply curtailing the lethality of firearms (and, as well, drastically reducing the number in circulation) are likely out of reach. When it comes to serious gun control, our badly fractured land may indeed be "A Lost Cause."
Not so the U.K. One year after a 27-year old British subject gunned down sixteen persons with a handgun and two rifles in the Hungerford Massacre of 1987, Great Britain enacted the "Firearms (Amendment) Act 1988," which banned semi-automatic rifles beyond .22 rimfire. And after the Dublane school massacre of 1996, when a man armed with four handguns murdered sixteen children and a teacher, Great Britain essentially banned handguns beyond super-long barreled .22's. (Click here for U.K. gun laws and turn to pp. 17-18 for the prohibitions.)
These restrictions continue to enjoy abundant public support. As well they should. During the one-year period ending March 2020 695 persons were murdered in the U.K. (England and Wales.) With a population of 67,081,000, its per/100K homicide rate was 1.0. To compare, in 2019 our land suffered 16,425 homicides. With a population of 328,239,523, America's per/100K murder rate comes in at 5.0, five times the U.K.'s. And while a measly thirty (4.3%) of the U.K.'s homicides were by shooting (sharp instruments were far more common) guns figured in nearly three out of every four (73.7%) murders in the U.S.
What about cops? "A Lost Cause" contrasted murders of police officers in the U.S. and the U.K. between 2000-2015. During that period Great Britain's yearly toll hovered around one. Using data from LEOKA Table 28 and accounts from the U.K.'s Police Roll of Honour Trust, here's an update:
Back to fixing things. Your writer spent his first career chasing gun traffickers. Many used "straw buyers" to buy guns singly and in quantity from gun stores in the same or neighboring States. Some got their guns directly from licensed dealers who corruptly pushed them "out the back door." However they acquired their guns, street dealers promptly resold them at considerable profit to criminals and thugs. Many of these weapons turned up quickly in crimes. (Click here for the writer's published article about gun trafficking in Los Angeles.)
Straw buyers feeding illegal street dealers continues to be a major source of crime guns. Addressing this problem is the objective of a new Department of Justice initiative (click here for a news account and here for DOJ's press release.) New York City recently reported a major "bust." We heartily support such efforts. Still, trafficking casework consumes prodigious resources. Investigators must identify potential violators, conduct extensive surveillance, and execute warrants to search and arrest. Considering the massive numbers of firearms that are manufactured and sold each day, it's unlikely that even the best investigative efforts can substantially reduce the lethal toll.
Ditto, fine-tuning the law. Illinois, for example, recently enacted a regulation that directs State police to confiscate firearms from persons whose firearms ID cards have been revoked, say, because of a felony conviction, but who apparently kept their guns. Background checks will also be required for private party gun transfers beginning in 2024. To be sure, these are promising steps. But no one with any experience in such things would claim that they're likely to make a substantial dent on violence overall.
Perhaps nothing can. But some determined citizens are refusing to give up. Despite bankrupt Remington Arm's offer to settle for $33 million, the families of the twenty-six students and teachers who were murdered in the 2012 Sandy Hook elementary school massacre are pressing on with their lawsuit. They insist they will prevail because in their view the Federal law that shields gun makers and sellers from litigation over gun misuse doesn't apply. According to the plaintiffs, Remington violated Connecticut law – the school was located in Newtown – by purposely marketing the assault weapon used in the attack to appeal to the violence-prone.
Be sure to check out our homepage and sign up for our newsletter
It's not just Americans who are upset. Mexico recently filed a Federal lawsuit against Smith & Wesson, Colt, other gun makers and a wholesaler, alleging that negligent gun marketing practices have fostered a huge, illegal inflow of guns that greatly imperils its citizens. As someone who has worked "guns to Mexico" cases, your writer heartily agrees.
Given the nature of our society and its body politic, tweaking the rules seems the only option. But even the hardiest legal response (e.g., California's) has had at best only a limited effect. What would work – drastically shrinking the number of guns in citizen's hands and sharply curtailing the lethality of what remains – seems well out of reach. We're not Britannia! That's why when it comes to gun control, Police Issues tends to despair. Yet there's been some momentum. Hopefully the final chapter of Reasonable Americans v. Guns is yet to be written.
UPDATES
10/26/21 Yesterday afternoon an unnamed person entered a Boise mall and, for reasons as yet unknown, opened fire, killing two and wounding four including a police officer. He was in turn shot and critically wounded by another officer. This incident follows on an October 12 shooting at a U.S. Postal Service facility in Memphis, where an employee shot and killed two supervisors, then committed suicide.
10/21/21 On October 14 a 14-year old member of a Los Angeles gang shot and wounded an LAPD detective who was driving to work. He was arrested in the area with the unserialized "ghost gun" used in the attack. That case led to a search warrant and the discovery of an illicit ghost-gun making operation in a tattoo parlor used by the gang. An LAPD report reveals that 863 ghost guns were seized during the first six months of 2021, compared with 217 during that period in 2020. Detectives have connected these untraceable guns to over one-hundred violent crimes this year, including 24 murders and eight attempts. San Diego recently enacted a law barring ghost guns, and Los Angeles seeks to follow in its footsteps.
10/15/21 Chicago police officer Carlos Yanez, critically wounded in a shooting that killed his patrol partner, officer Ella French, was released after two months in rehabilitation. Wounded in the eye, cheek, brain and back, Officer Yanez is paralyzed on one side of his body and must use a wheelchair. But his spirit is strong. According to the officer's father, his son "has many plans for the future" and wants to work with kids in the city's beset Englewood area. For the GoFundMe campaign click here.
10/11/21 Three Minnesota men, ages 29, 32 and 33, each with a substantial criminal record, were arrested for shooting it out in a packed St. Paul bar early Sunday morning, October 10. Their gunfire left them and eleven others wounded and killed a 27-year old veterinary technician. She was the city's 32nd. murder victim this year. St. Paul had 34 homicides in 2020, same as in the record-setting year of 1992.
9/26/21 Sixteen Chicagoans were shot, two fatally, between Friday and Saurday night. Among the wounded was a police officer. She and her partner had stepped out of their patrol car to render aid when gunfire rang out and she was struck in the foot. "I will be back soon," she promises. She is the 46th. Chicago cop to be shot at this year, and the twelfth wounded. Two months ago officer Ella French was killed and her partner was wounded while they patrolled one of the city's most dangerous areas.
9/24/21 In Collierville, Tennessee, "a prosperous community with a low crime rate," the reportedly disgruntled employee of a vendor entered a Kroger supermarket brimming with customers and employees and opened fire, killing one and wounding twelve. He then committed suicide. In July Tennessee enacted a law that allows adults to carry handguns openly or concealed without a permit. Asked then about mass shootings, Tennessee Governor Bill Lee, who pushed the measure, said that stronger penalties for gun misuse, which also passed, "would help prevent gun crimes in the future."
8/31/21 Except for convicted felons, as of Sept. 1, 2021, everyone in Texas, age 21 or over, will be allowed to carry a handgun openly or concealed, without a permit. State law previously allowed gun carry, but a permit was required. Texas law library summary
8/19/21 Laying in wait with a rifle, a violent, wanted felon wounded a San Bernardino, Calif. sheriff's deputy who stopped his vehicle. Located by police SWAT officers the next day, he used a pistol to engage them in a gunfight. Ervin Olikong, 34, wounded two officers, neither fatally, before he was shot dead.
8/16/21 On August 12 a 22-year old British man obsessed with the "incel" movement used a shotgun to kill five persons, including his mother, and wound two others. Allegations that he committed an assault led London police to take his gun away in December 2020, but they returned it a month ago. According to the media, the lethal spree was Great Britain's "first mass shooting in more than a decade."
8/13/21 In Chicago's violent Englewood neighborhood, a volley of bullets penetrate a home. Two sixteen-year old youths are struck; one, Cordell Bass, is killed. His mother and three nephews, ages 2, 5 and 6, escape injury. Bass's mother, who said her son was under "house arrest" for a gun-related incident, thinks that he was killed by the same person who wounded her niece's boyfriend some months earlier.
The pistol used by Joseph Jimenez, 20, to murder the couple at a Corona movie theater was described by sheriff's deputies as an unserialized "ghost gun." Jimemez was too young to purchase a handgun at retail. He had been at the movie theater with friends, but they left when his behavior made them uncomfortable. Officers recovered the gun and the male victim's wallet at Jimenez's home.
8/12/21 Chicago police superintendent David Brown blasted the Federal judge overseeing the straw purchase charge against Jamel Danzy for releasing him from custody pending trial. Danzy admitted he bought the gun for an acquaintance, Eric Morgan, who traveled to Indiana to pick it up. Morgan used the pistol several months later to murder CPD officer Ella French and critically wound her partner.
8/10/21 Chicago brothers Emonte Morgan, 21 and Eric Morgan, 22 were charged with murdering police officer Ella French. Both have serious criminal records, and Eric Morgan is a felon. Indiana resident Jamel Danzy admitted he acted as a "straw buyer" by buying the Glock pistol used in the killing at a store, then giving it to Eric Morgan, whose record prohibits him from buying guns. Danzy was Federally charged.
Did you enjoy this post? Be sure to explore the homepage and topical index!
Home Top Permalink Print/Save Feedback
---
RELATED ARTICLES
VOX feature story about gun control in the U.S. vs. Canada, the U.K., Switzerland and Japan
Washington Post op-ed Sources of Crime Guns in Los Angeles, California
RELATED POSTS
Four Weeks, Six Massacres Two Weeks, Four Massacres The Usual Victims
Loopholes are Lethal (II) Going Ballistic Loopholes are Lethal (I) Again, Kids Die
Ban the Damned Things! A Lost Cause A "Ban" in Name Only Bigger Guns Aren't Enough
---
Posted 6/28/21
DON'T LIKE THE RULES? CHANGE THEM!
Partisanship shapes how gun laws are interpreted.
And when the other side takes over, the fight is on!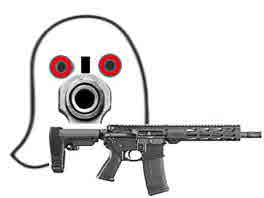 For Police Issues by Julius (Jay) Wachtel. On March 22 a deranged twenty-one year Colorado man burst into a Boulder supermarket and unleashed a fusillade from a Ruger AR-556 "pistol", killing ten. In "Two Weeks, Four Massacres" we mentioned that the weapon (pictured above), which features a "stabilizing brace" instead of a stock, was essentially a short-barreled version of the AR-15 rifle. Permissive ATF rulings dating back to 2012 have classified weapons so configured as "pistols," allowing gun makers, sellers and buyers to avoid the elaborate registration and transfer process that the National Firearms Act imposes on selected firearms. These include fully automatic weapons ("machineguns") and concealable shoulder-fired guns, including rifles with barrels less than sixteen inches in length.
No longer, says President Biden. On June 7 the Department of Justice announced that a "continuing epidemic of gun violence" had forced its hand. According to a proposed regulation, "stabilizing braces" could no longer facilitate the masquerade:
Because short-barreled rifles are among the firearms considered unusual and dangerous, subjecting them to regulation under the NFA, it is especially important that such weapons be properly classified. Indeed, firearms with "stabilizing braces" have been used in at least two mass shootings [Boulder and, in 2019, Dayton], with the shooters in both instances reportedly shouldering the "brace" as a stock, demonstrating the efficacy as "short-barreled" rifles of firearms equipped with such "braces."
Click here for the complete collection of gun control essays
As one might expect, the AG's move brought plaudits from the "Blues" and generated condemnation from the "Reds." Here's how a key organization that represents the latter camp denounced the proposal:
The agency's goal is clearly to push many firearms that utilize stabilizing braces into the National Firearms Act (NFA), requiring a $200 tax stamp and registration. FPC believes that the NFA is an unconstitutional infringement of the People's rights and that the ATF should be abolished. Any law or regulation enforcing the NFA is unconstitutional and immoral.
Proposed regulations must offer a period for public comment. And the pro-gun community promptly leaped in. Comments opened June 9, and by the 24th. more than one-hundred thousand were posted. We arbitrarily selected two-hundred fifty. No surprise: everyone in this (admittedly, non-scientific) sample vigorously opposed the rule. Their most frequent objection was also the broadest: once again, ATF was trying to desecrate the Constitution. Here are two examples:
"I believe that the BATFs new proposed rule on pistol braces (2021R-08) is a gross infringment [sic] of our constitutional rights and should be struck down immediately."

"...These proposed factors are a direct infringement of the second amendment, and give the agency far too much power to incriminate whoever they decide to with ease..."
Some commenters also had practical concerns:
"...I'm a disabled American. I own a AR pistol with a brace. It absolutely helps me shoot with much less fatigue...I understand there are real criminals out there and I think your agency should probably be going after them instead of violating my rights. We all understand that the ATF doesn't mind using violence to violate the rights of Americans..."

"...A manufacturer's stated intent on the use and function of product is theirs to define, and in no way should we assume that a government agency should be able to usurp that claim based on how a consumer may use that product."
Others questioned the regulation's effectiveness in preventing violence:
"...If the overall narrative to enact this proposal is to "save lives" then statistically it will save very few, as braced pistols are very rarely used in shootings."
---
So what about our introductory ghost? On May 7th., just one month before it acted to prohibit stabilizing braces, the Justice Department announced a regulation that would "modernize" how a firearm "frame or receiver" is defined. As the housing for a weapon's firing mechanism, this component (either word describes it) is in effect considered as the firearm, and must accordingly bear a unique serial number that allows its redistributive history to be traced.
ATF's definition of a receiver excludes those it deems "less than eighty percent" complete. See its graphic (we enlarged some of the text for clarity). As much an object might look like a receiver, if it lacks "holes or dimples for the selector, trigger or hammer pins" it's "Not a firearm." Problem is, kits are widely available that furnish all the parts, templates and instructions for making functioning, non-serialized "ghost guns" in one's workshop, or at home. DOJ's filing indicates that many not-so-nice people took advantage. During 2016-2020 police reportedly recovered nearly twenty-four thousand untraceable "ghost guns," including 325 used in murders and murder attempts. In 2018 the Los Angeles Times reported that urban gangs were arming themselves with ghost guns. Police officers have also fallen victim. California Highway Patrol officer Andre Moye was gunned down with a ghost rifle the following year.
Conventional guns bear serial numbers and can be traced back to their first point of sale. Indeed, your writer made a career of using this information to pursue gun traffickers. (For more about that see "Sources of Crime Guns in Los Angeles, California") But ghost guns lack serial numbers, so they can't be traced. That's a problem the new regulation would address. Forget that eighty-percent stuff. "Blank" receivers (no holes or dimples) would be likely considered full-fledged guns, thus require a serial number and be subject to Federal and State controls. Here's an extract from DOJ's discussion about the proposed rule:
...the new definition more broadly describes a "frame or receiver" as one that provides housing or a structure designed to hold or integrate any fire control component. Unlike the prior definitions of "frame or receiver" that were rigidly tied to three specific fire control components (i.e., those necessary for the firearm to initiate or complete the firing sequence), the new regulatory definition is intended to be general enough to encompass changes in technology and parts terminology.
One can well imagine how the gun lobby reacted. Summoning gun enthusiasts to "Help us STOP ATF's unconstitutional and dangerous proposed 'rule' that would radically expand their powers and restrict your rights!" the Firearms Policy Coalition urged everyone to submit comments and spread the word.
Its "call to arms" likely had an effect. Nearly sixty-five thousand comments were posted between May 20 and June 24, 2021. We (non-scientifically) reviewed two-hundred fifty. Each opposed the new regulation. And just like for stabilizing braces, many blasted ATF for defiling the Constitution. Here are two examples:
"How dare you consider taking more of our second amendment rights. Our rights have already ben infringed upon and we the people will not bow before the usurpers that have corrupted our nation and our constitution."

"This regulation does nothing but infringe on the rights of law abiding Americans with constant harassment through numerous background checks for non firearm parts and endlessly putting roadblocks up to free commerce on parts not under the authority of ATF to regulate as they are not a firearm. Stop harassing citizens for exercising their rights..."
Some respondents worried that the rule would constrain making one's own guns:
"Since the founding of the Republic, Americans have made firearms at home.  In the twenty-first century, steel and wood have given way to aluminum and plastic.  This new rule by the ATF attempts to regulate the making of firearms, by private persons who are not FFL holders, and to regulate those guns which are made within a private residence for personal use..."

"The ATF must immediately withdraw their proposed rules to criminalize so-called "ghost guns." To start, the very phrase "ghost guns" is a politically charged pejorative used to scare Americans and justify the infringement on our right to craft a homemade firearm - a right ancillary to the Second Amendment..."
None believed that the regulation would prevent gun misuse. Quite to the contrary:
"...These rules will not prevent or even limit gun violence, they only make more law abiding citizens criminals..."

"...No proposed gun control law - including the proposed regulation of so-called "ghost guns" - will stop criminals from being able to obtain and use firearms in the commission of crimes."

"...There is absolutely no data to back up your false claims that these so called "ghost guns" are being used in any crimes or murders. Maybe focus on stopping criminals who are buying illegal guns off the streets and not go after law abiding citizens who would rather build a firearms vs buying one already assembled..."
---
To be sure, gun control advocates have also stepped up to the plate. Garen Wintemute, an emergency physician who heads UC Davis' long-standing Violence Prevention Research Program, came out strongly in favor of restricting ghost guns. We agree. Police have been recovering lots of "ghosts." Combatting the scourge of gun trafficking requires that guns carry serial numbers so their redistributive history can be traced. That would certainly rule out assembling guns at home.
As for stabilizing braces, our views are mixed. Yes, short-barreled rifles that take advantage of braces to pose as conventional guns are coming up in crimes. Yet we're not convinced that these firearms represent a unique threat. Our concern about lethality is far more complex. As we mentioned in "Going Ballistic" it's much more about, well, ballistics. Projectiles such as those fired from AR-15 rifles (and the brace-flaunting AR-556 pictured above) can easily defeat the protective vests normally worn by police. Indeed, there's a good reason why cops have turned to armored vehicles. "Going Ballistic" and "Massacre Control" suggest that a point system that takes ballistics, ammunition capacity and such into account could be used to identify firearms that are too dangerous for public consumption.
Be sure to check out our homepage and sign up for our newsletter
The Second Amendment has always carried a clearly ideological subtext. Even so, had its drafters realized that their reference to a "well-regulated militia" would be ignored, and that guns would become exceedingly lethal and widely misused, we're certain that they would have built in some additional safeguards. But they didn't, so they didn't. Thanks to a deeply polarized atmosphere and convoluted, precedent-intensive legal system, fashioning an inoffensive "fix" is inevitably complex. And the product can be mind-boggling.
Don't believe it? Go ahead, just try to get through the proposed regulations. Be sure to have some aspirin close at hand!
UPDATES
9/10/21 Doomed by his nominee's past remarks about gun ownership and his close association with gun control groups, President Joe Biden reluctantly withdrew the nomination of retired ATF agent David Chipman to be the agency's permanent director. ATF Directors are subject to Senate approval, and disputes about gun control have left the beleaguered agency without a top manager for nearly a decade. White House statement
8/25/21 On August 18, the Department of Justice filed a "statement of interest" in Cole County, Missouri Circuit Court, joining the City of St. Louis in its challenge of Missouri's recently-enacted "Second Amendment Preservation Act" (HB85), which nullifies all Federal gun control laws and recordkeeping requirements and bars the state's law enforcement officers from participating in their enforcement.
8/13/21 The pistol that Joseph Jimenez, 20, a schizophrenic off his meds used to murder a couple at a Corona movie theater on July 27 was described by deputies as an unserialized "ghost gun." Jimemez was too young to purchase a handgun at retail. He had been at the movie theater with friends, but they left when his behavior made them uncomfortable. Officers recovered the gun and the male victim's wallet at Jimenez's home.
8/7/21 Beset by "ghost guns" — its police have recovered 255 so far this year — San Diego's city council introduced an ordinance that prohibits possessing and transferring unserialized guns and frames. Persons who wish to assemble a gun from a kit would have to apply to the State Department of Justice to obtain a serial number. That requires passing a criminal records check. A California State law that will require sellers of gun parts kits to be licensed and conduct background checks will take effect in July 2022.
7/19/21 Florida upped the minimum age to buy long guns from eighteen to twenty-one after 19-year old Nikolas Cruz used an AR-15 rifle he bought at a local gun store to murder seventeen at a high school in 2018. That didn't stop 18-year old Sol Pais, a Miami resident, from buying a shotgun she apparently intended to misuse in Colorado the next year. To prevent future circumventions, the FBI has agreed to explore modifying its background check system to to enforce the buyer's home State age requirements.
7/14/21 Federal law (18 USC 922[b][1]) bars dealers from selling handguns to persons under 21. That, according to a 2-1 ruling by a Maryland Federal appeals panel, violates the 2nd. Amendment (Tanner Hirschfeld v. ATF, 7/12/21). Questioning whether younger persons are truly at special risk of misusing store-bought handguns, the Justices remarked that 18-year olds "were required at the time of the Founding to serve in the militia and furnish their own weapons." An appeal to the full Court is expected.
7/2/21 Missouri is one of nine States that has enacted laws that "discourage or prohibit" police from cooperating in the enforcement of Federal gun laws. Its "Second Amendment Preservation Act," which was ostensibly intended to soften the blow should new Federal gun regulations pass, declares many Federal gun laws "invalid" and prohibits police from participating in their enforcement. Accordingly, some Missouri agencies have pulled their officers from working with ATF. However, the Administration's gun bill has stalled in the Senate. It would expand background checks to include private party and gun show sales and lengthen the waiting period from three to ten days. That seems important as a surge in gun sales has overwhelmed the FBI background check process. During Jan. - Sept. 2020, it couldn't complete 3.4 percent (316,000) within three days, so guns were delivered without them.
Did you enjoy this post? Be sure to explore the homepage and topical index!
Home Top Permalink Print/Save Feedback
---
RELATED ESSAYS
Sources of Crime Guns in Los Angeles, California
RELATED POSTS
Want Happy Endings? Don't Chase Four Weeks, Six Massacres Two Weeks, Four Massacres
Loopholes are Lethal (I) (II) Going Ballistic Massacre Control Where do they Come From?
---
Posted 4/19/21
FOUR WEEKS, SIX MASSACRES
Would stronger gun laws help? We crunch the numbers.
They're not reassuring.

For Police Issues by Julius (Jay) Wachtel. When we left off in "Two Weeks" the toll was three massacres and twenty-two dead in seventeen days. But we had missed one. On March 29, a Maryland man embarked on a vicious shooting spree. His gunfire claimed four lives, including those of his parents, and seriously wounded a fifth person. He then committed suicide. Joshua Green, 27, used two handguns that he bought and legally registered last year. He had no criminal record. So we changed the essay's title to "Two Weeks, Four Massacres."
Then on April 8, as we began working on this essay, tragedy struck in South Carolina. A former NFA player used two pistols to slay an elderly physician and his wife and two of their grandchildren at a Rock Hill home. Phillip Adams, 32, also shot and killed a handyman. Adams had played pro football during 2010-2015 but left the sport after suffering several injuries, including at least two concussions. He clearly found the transition to ordinary life difficult. Family and friends observed that Adams was growing increasingly moody and temperamental and seemed to be "struggling with his mental health." Of course, no one expected that he'd embark on a murderous spree.
But he did. Tracked by police to his parents' home, the former athlete shot himself dead.
Click here for the complete collection of gun control essays
Then on April 15, when we though this essay was really, really done, a young gunman toting two assault rifles stormed an Indianapolis FedEx facility (see image above) and opened fire, killing eight and wounding seven. Brandon Scott Hole then committed suicide. A former FedEx employee, the 19-year old was placed on a brief "mental health hold" last year after his mother warned police that he "might try to 'commit suicide by cop'." Hole then had a shotgun, which police seized and apparently did not return. But that didn't slow him down. He went on to legally purchase one assault rifle in July and another in September. Although Indiana has a so-called "Red Flag" law that can be used to bar gun ownership by mentally disturbed persons (more on that later) it was apparently never invoked.
What could stem the slaughter? Many gun control advocates fiercely insist that stronger laws help. Given your writer's past career as a Federal firearms agent, he's not inherently hostile to that approach. Yet when we assessed the effects of gun law strength and related factors on gun deaths and murders four years ago the results weren't reassuring:
Our number-crunching confirmed statistically significant associations between gun laws, overall gun deaths and gun suicides, but not between gun laws and gun homicides. While our efforts are admittedly limited, they suggest that gun laws as implemented in the U.S. are far more apt at reducing gun deaths from non-criminal rather than criminal causes.
So we did it again. This time we used Gifford's widely-accepted scale of gun law strength. Keeping ostensible causes and effects separate, here are our measures ("variables" in statistics-speak):
Causal variables
Gun law strength

. Giffords' 2020 State gun law strength (range 1-50). Giffords assigns #1 to the State with the strongest laws, and #50 to the State with the weakest. We flipped that around. Scaled low law strength to high law strength.


Gun ownership

. RAND 2016 gun ownership by State (proportion of adults living in a household with a firearm in 2016). Scaled low proportion of gun owners to high.


Percent residents in poverty, by State

. From the Census. Scaled few to many.
Effects variables
Correlation analysis (the r statistic) was used to assess the relationships between pairs of variables. Here's a brief discourse:
Explanation: r's are on a scale of -1 to +1. If the r is zero the variables aren't associated, meaning that as the scores of one change the other does its own thing. If the r is either 1 or -1 the relationship is in lockstep. If the r is positive, the scores of the variables increase and decrease together; if it's negative, as the scores of one variable increase, the scores of the other decrease. Lesser r's (say, .2 or -.2) denote weaker relationships, thus less synchronicity in the variables' movements. Due to the nature of the data we omitted the asterisks (*) that report an r's "significance." However, in our experience any r that's .50 or greater, whether positive or negative, definitely bears attention.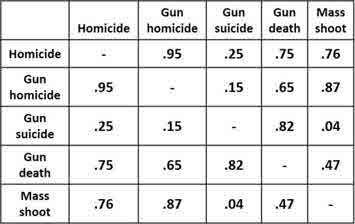 We first assessed the relationships among the "effect" variables. As expected, each was "positive," meaning their scores increased and decreased together. Many of the relationships were also strong, meaning that the scores changed in substantial synchrony. That's particularly true for homicide and gun homicide, which seem like two measures of the same thing (nearly 3 out of four murders in 2019 were committed with firearms.) As expected, gun suicides, which accounted for about sixty percent of gun deaths in 2019 (23,941 / 39,707, click here and here) are strongly related to overall gun deaths. Mass shootings were also very strongly related to gun homicides, thus homicides overall.
We then brought in the "causal" variables: gun law strength, gun ownership and percent of residents in poverty. Here's the matrix with everyone on board:
Stronger gun laws are supposed to reduce crime. And maybe they do. All the r's for gun law strength are negative. As gun laws get tougher, each of the effect measures (say, gun deaths) declines. And as gun laws weaken, the other measures increase. But the strengths of the relationships varies. Gun law strength seems only moderately associated with homicide overall (r=-.33) and its relationships with gun homicides (r=-.20) and mass shootings (r=-.23) are relatively weak. On the other hand, gun law strength is strongly associated with both gun suicides (r=-.76) and gun deaths (r=-.73).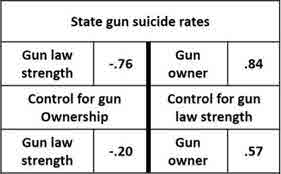 But there may be a statistical fly in the ointment. Gun law strength has a very robust, negative relationship with gun ownership rates (r=-.84). Problem is, strong associations between variables can exaggerate the apparent strength of their relationships with other variables. So we turned to partial correlation. We begin on the left side of the graph, which reports the relationship between gun suicide rates and gun law strength. Note that when we "control for" (exclude the influence of) gun ownership, the relationship between gun suicides and gun law strength plunges from r=-.76 to r=-.20. Switch to the right side, which describes the relationship between gun suicide rates and gun ownership. Once we exclude the influence of gun law strength, the association between gun suicides and gun ownership falls from r=.84 to r=.57. What remains, though, is still a good-sized r. Our takeaway is that gun ownership rates seem to be a substantially more powerful influencer of gun suicides than gun law strength.
Let's do the same with gun death rates. Once gun ownership gets the boot, the association between gun deaths and gun law strength drops precipitously, from r=-.73 to r=-.30. Same thing happens when we exclude the influence of gun law strength from the association between gun death rates and gun ownership. Bottom line: when it comes to gun deaths, gun law strength and gun ownership are somewhat important, but perhaps much less so than what one might expect.
And things get more interesting. Check out this matrix. Gun law strength and gun ownership are weakly associated with the three variables that reflect guns' criminal misuse: homicides, gun homicides and mass shootings. Those "effects" seem far better explained by another "cause." Can you find it?
Good job! Yes, it's poverty. Essays in our Neighborhoods special topic have long examined this social condition, which many criminologists consider a key underlying factor in crime and violence. Check out the relationships between poverty and homicide, poverty and gun homicide, poverty and gun deaths and poverty and mass shootings. Each r is positive and strong, meaning that as poverty increases, so do the others, and in nearly lock-step fashion.
Everyone knows that many poor neighborhoods are burdened by gun violence. So here's a "lever," right? Well, not so fast! After all, the apparently strong relationships between poverty and its soulmates could be a instant replay of what happened earlier. Poverty has moderately strong relationships with both gun ownership and gun law strength. Is it possible that their influence is exaggerating poverty's relationships with other variables? Once again let's turn to partial correlation.
Look at the left graph. "Controlling" for either gun ownership or gun law strength hardly affects the "r" between homicide deaths and poverty. It remains very strong. Ditto gun homicides and poverty.
The next two graphs convey about the same story. Controlling for gun law strength slightly reduces the association between gun death rates and poverty, but it remains robust at r=.52. And the strong relationship between mass shootings and poverty is unaffected.
So what's the takeaway? Here are the perpetrators of the six massacres in our series:
March 16: Robert Aaron Long, 21, used a 9mm. pistol he bought that morning to murder eight at three Atlanta-area massage parlors


March 22:

Ahmad Al Aliwi Alissa, 21, used an AR-556 "pistol" to murder ten at a Boulder, Colorado supermarket. He also carried a 9mm pistol


March 29:

Joshua Green, 27,

(mentioned here) used two handguns to murder four persons in Maryland


March 31:

Aminadab Gaxiola Gonzalez, 44, used a 9mm. pistol to murder four persons at a Southern California business


April 8:

Phillip Adams, 32,

(mentioned here) used two pistols to murder five persons at a private residence in South Carolina


April 15:

Brandon Hole, 19,

(mentioned here) used two assault rifles to murder eight persons and wound seven at an Indianapolis FedEx facility
Best we can tell, none of the gunmen – and all were male – was a convicted felon or had ever been committed to a mental institution. Best we can tell none was prohibited by either Federal law or, indeed, the law of any State from owning or acquiring the firearms they misused. That includes California, which Giffords commends for having the strictest gun laws in the U.S.
Is it really that hopeless? Let's go through some of the "levers".
Full stop: what about "regular" gun violence? While six massacres and thirty-nine dead innocents in four weeks is deplorable, those numbers don't begin to approach the everyday toll of criminal and gang-related gunplay in America's urban areas. Indeed, a Chicago Tribune columnist recently complained that the "outcry over recent violence in Atlanta, Colorado and California" ignores the incessant gun violence that plagues her community:
But 15 people were shot at a party in Chicago's Park Manor neighborhood on March 14 (two days before the Atlanta-area shootings) and eight people were shot outside a Wrightwood neighborhood storefront on March 26 (four days after the Boulder shooting and five days before the Orange shooting.)...What does it say that the violence here is so rarely included in larger discussions — in the media, among politicians — about mass shootings and the trauma they inflict on our nation?
For more about that, check out "The Usual Victims." Work your way through some of the related posts. Incredible!
Be sure to check out our homepage and sign up for our newsletter
No, we're not suggesting that gun laws are useless. Even an r of -.20 (that's the raw relationship between gun law strength and gun homicides) is something. So tinker with laws and regulations all you want. To make a real impact, though, we must look to the fundamentals. As our Neighborhoods essays repeatedly point out – and as the data clearly suggests – economic deprivation is deeply linked to the violence that besets many American neighborhoods. For our most recent essay on point, check out "Fix Those Neighborhoods!" And while you're at it, don't forget to read "Memo to Joe Biden," recently published in John Jay's The Crime Report.
Reducing the toll from gun violence, whatever its form, calls for a return to the fundamentals. What is a "society" all about? How can we strengthen the bonds between humans regardless of their income, social standing, place of residence, ethnicity, or skin color? How can we place America's downtrodden places on the path to prosperity? We don't have any quick answers, but that "Marshall Plan" we so frequently peddle could be a good start.
UPDATES
8/31/21 Except for convicted felons, as of Sept. 1, 2021, everyone in Texas, age 21 or over, will be allowed to carry a handgun openly or concealed, without a permit. State law previously allowed gun carry, but a permit was required. Texas law library summary
8/3/21 In response to a 2019 mass shooting that killed five persons and wounded six, including five police officers (see 2/16/19 update in "No One Wants") Illinois enacted a law that directs State police to confiscate firearms from persons whose State firearms ID cards have been revoked, say, due to a felony conviction, but may still have guns. Background checks for private party gun sales will also be required beginning in 2024.
7/27/21 In Wasco, a town near Bakersfield, Calif., a 41-year old man armed with an AK-47 style rifle and a handgun opened fire inside his home. Neighbors called deputies and said occupants had been shot. Responding officers were fired on and took cover. Two SWAT members soon approached on foot. The shooter opened fire, reportedly through the windows, fatally wounding Deputy Phillip Campas, 35 and wounding his partner. Two other deputies sustained shrapnel injuries. Deputies shot and killed the assailant as he exited the home. His 42-year old wife and their 17 and 24-year old sons were found inside, all shot dead. A restraining order prohibiting the shooter from having guns was in effect.
6/20/21 Responding to the decision by a Boulder judge to invalidate the city's ban of assault weapons, such as the Ruger AR-556 "pistol" used by Ahmad Al Aliwi Alissa, a new State statute specifically authorizes cities to enact their own gun laws. So it's expected that Boulder's law will be reinstated. Still, Alissa bought the gun in Arvada, where, as in the rest of Colorado, such weapons remain legal.
6/16/21 (updated 6/21/21) Chicago experienced two mass shootings in a single day. In the troubled Englewood neighborhood, a pair of armed men "burst into a home" and opened fire, leaving five dead and three wounded. Hours later five were wounded, one critically, in an "attack" in the Garfield Park area. Other shootings that day left at least two dead and one wounded.
6/13/21 Around the U.S., three mass shootings in the span of a few hours left at least twenty-six wounded and two dead. It began in Savannah on Friday evening when the occupants of a passing car fired dozens of rounds at a crowd gathered outside an apartment complex, killing one and wounding six. Early the next morning, a dispute between two persons in an Austin bar district left fourteen wounded, two critically. About the same time, two gunmen opened fire on a small group gathered in a troubled Chicago neighborhood. One person died and six were wounded.
6/3/21 On May 9 a "jealous and controlling" boyfriend barged into a birthday party being held in a mobile home at a Colorado Springs mobile home park and opened fire. Teodoro Macias, 28, killed six members of an extended family, including his girlfriend. He then turned the gun on himself, inflicting a fatal wound. Macias has no known criminal record; his 9mm pistol had been locally purchased by a third party in 2014. It is said that Macias was angry at being excluded from the event.
5/31/21 Early Sunday morning, May 30, a crowd leaving a Miami-Dade County music hall after the release of a rap album was ambushed by three masked gunmen who had been waiting outside in their vehicle. Wearing "ski masks and hoodies" and wielding semi-automatic rifles and handguns, they unleashed a barrage of fire that killed two and wounded at least twenty.
5/29/21 New information reveals that San Jose mass shooter Samuel Cassidy fired thirty-nine shots during his rampage. He was armed with three 9mm. pistols and carried thirty-two high-capacity pistol magazines. "Highly disgruntled" with his job situation and facing possible discipline, he apparently targeted co-workers whom he did not like. A search of his home revealed twelve additional firearms, twenty-five thousand rounds of ammunition, gasoline cans and suspected molotov cocktails.
5/27/21 A disgruntled San Jose, Calif. railyard employee reportedly armed with "two semiautomatic pistols and 11 magazines of handgun ammunition" opened fire on his early morning work shift, killing nine co-workers. Samuel James Cassidy, 57, then committed suicide. His long-estranged wife said he had a "mercurial temper," while a girlfriend accused him of rape and alcohol-induced "mood swings" when they exchanged restraining orders several years ago. Cassidy, who apparently set fire to his home before going to work, was described as "lonely and "strange" by a neighbor. There is no indication that Cassidy was either prohibited from having guns or was subject to any weapons prohibitions.
5/25/21 Overriding objections from some law enforcement groups, which pointed out that 2,422 Texans were denied CCW permits in 2020 because of their criminal records, Texas Governor Greg Abott said he will sign a "constitutional carry" bill on his desk that will make his State the twentieth (or by some counts, twenty-first) to let persons who are 21 or older and don't have a disabling criminal record carry handguns openly or concealed without a permit. In 2019, after mass shootings killed 23 in in El Paso and seven in Odessa, Governor Abott recommended "voluntary" background checks for private gun sales.
5/7/21 Although the FBI and police took away his shotgun last year because of his odd behevior, Brandon Hole went on to legally purchase the two AR-15 style rifles - a Ruger AR-556 and an HM Defense HM15F - that he used in the April 15 FedEx massacre. Indianapolis' prosecutor said he didn't then pursue his state's "Red Flag" law because his office did not have the time and resources to comply with the procedure's stiff requirements. A local judge has now ordered the prosecutor to refer all such cases submitted by police. Presumably that will include the forty-five officers sent in so far this year.
5/1/21 "They were just kind of giving us a heads up, 'This is what he's thinking about doing.'" That's how North Carolina Sheriff Len Hagamana characterized recent warnings about Isaac Alton Barnes, 32, a well-armed resident of Boone whom neighbors feared was getting set to explode. But nothing was done, and on April 28 he did. Barnes' shooting rampage took the lives of his mother and stepfather and two deputies. He committed suicide.
4/24/21 Each falls just short of the four deaths that a gun massacre has come to mean. Yet the residents of Austin, Texas and Kenosha County, Wisconsin were nonetheless on edge as police searched for gunmen whose "targeted" killings left three dead and others injured in each community. Both tragedies happened during the afternoon hours of Sunday, April 18. Kenosha's unfolded in a bar, while the Texas murders took place in an apartment complex, supposedly as result of a domestic dispute.
Did you enjoy this post? Be sure to explore the homepage and topical index!
Home Top Permalink Print/Save Feedback
---
RELATED ESSAYS
"Memo to Joe Biden: Focus on Neighborhood Safety" The Crime Report, Dec. 7, 2020
"Want an assault weapons ban that works? Focus on ballistics." Washington Post, Sept. 6, 2019
RELATED POSTS
Special topics: Neighborhoods Gun massacres
An American Tragedy Don't Like the Rules? Change Them! The Usual Victims
Don't "Divest," Invest! Place Matters One Week, Two Massacres (I) (II)
Fix Those Neighborhoods! Red Flag (I) (II) Ban the Damned Things! Do Gun Laws Work?
---
Posted 4/4/21
TWO WEEKS, FOUR MASSACRES
A troubled Colorado man buys a "pistol."
Six days later ten innocents lie dead.

For Police Issues by Julius (Jay) Wachtel. "No family should ever have to go through this again in the United States." Imagine waiting with your adult son and two granddaughters in a Covid vaccination line when a shooter in a tactical vest bursts in and unleashes a fusillade, gunning down a patron only steps away. By the time that 21-year old gunman Ahmad Al Aliwi Alissa surrendered, ten lay dead in and around a Boulder, Colorado supermarket. Among them was police officer Eric Talley. A father of seven, the fifty-one year old officer was first to arrive on scene, and as he burst in to save lives he suffered a gunshot wound to the head.
And no, that's not too much information. Officers and ordinary citizens are often imperiled by inordinately lethal projectiles discharged by weapons thoughtlessly marketed for civilian consumption. According to police, Alissa had been armed with two weapons: a 9mm. handgun he apparently didn't fire and the Ruger AR-556 "pistol" (see image above) he discharged during the assault. Purposely configured by its manufacturer to skirt bans on assault weapons and such, the AR-556 is essentially a short-barreled AR-15 with a brace instead of a stock. Chambering the same powerful 5.56/.223 cartridges as the weapon it mimics, it fires a bullet whose mass and extreme velocity enables it to penetrate walls and doors as if they didn't exist. Ditto the protective vests typically worn by cops on patrol. Here's an outtake from our 2019 op-ed in the Washington Post:
Click here for the complete collection of gun control essays
California, six other states and the District "ban" assault weapons. But these laws skirt around caliber. Instead, they focus on a weapon's physical attributes. For example, California requires that semiautomatic firearms with external baubles such as handgrips have non-detachable magazines and limits ammunition capacity to 10 rounds.
As we argued, those characteristics aren't the real reason why assault-style weapons are so dangerous. That's fundamentally a matter of ballistics. High-energy, high-velocity .223-, 5.56- and 7.62-caliber projectiles have unbelievable penetrating power. And should these bullets strike flesh, they produce massive wound cavities, pulverizing blood vessels and destroying nearby organs. Rifles can deliver the mayhem from a distance. That's what happened in 2017 when an ostensibly law-abiding gambler opened fire with AR-15-type rifles from his Las Vegas hotel room, killing 58 and wounding more than four-hundred.
We're not just concerned about rifles. The muzzle energy of ammunition fired by today's 9mm. pistols can be twice or more that of the .38's and .380's that were popular when your writer carried a badge. While ordinary police vests are able to defeat most 9mm. rounds, should they strike an unprotected area their wounding capacity makes their old-fashioned counterparts seem like toys.
Alissa's brother worried that his sibling was mentally ill. He complained about being followed and ranted online that his phone had been hacked. Alissa frequently displayed an aggressive side. His high school wrestling career ended the day he lost a match. Exploding in fury, he threatened to kill his teammates and stormed out. His only known criminal conviction stemmed from a classroom incident in which he "cold-cocked" a student who had supposedly "made fun of him and called him racial names." Alissa was convicted; he drew community service and a year's probation.
Unfortunately, that was only a misdemeanor. As in Federal law, prohibitions on gun purchase and possession in Colorado only extend to those convicted of felonies and misdemeanor crimes of domestic violence. Bottom line: Alissa was legally entitled to buy that so-called "pistol." And just like Georgia, where mass killer Long resided, Colorado doesn't impose a waiting period. So once Alissa cleared the background check he was free to take his treasure with. And promptly did.
In Part I we mentioned that Georgia got an "F" from Giffords. In contrast, Colorado was awarded a "C+". The Mountain State does offer a few more safeguards. While Georgia relies solely on the FBI background check, Colorado also runs a State check. Colorado police and family members can also petition courts to disarm potentially dangerous gun owners. Alissa, though, wasn't a felon. Neither was he ever formally accused of presenting an armed threat. And as far as that AR-556 goes, Colorado law doesn't address assault weapons.
Admittedly, it would take a highly restrictive statute to ban the AR-556. Even California, whose gun law strength is rated by Giffords as number one in the U.S., allows versions of the AR-556 with longer barrels and fixed magazines (click here for an example.) But the 2018 massacre at Florida's Parkland High School led the City of Boulder to virtually ban such weapons altogether. In a bizarre coincidence, that law was nullified this March 12 by a Boulder County judge who agreed with pro-gun advocates that when it comes to guns, state laws rule. In any event, Alissa purchased the AR-556 at a store in Arvada, the Denver suburb where he and his parents reside.
As we carped in our op-ed and in "Going Ballistic," firearms lethality is, first and foremost, about ballistics. And those of the AR-556 are truly formidable. Yet not even California, which Giffords ranks #1 in law strength, pays any attention to this pressing issue. And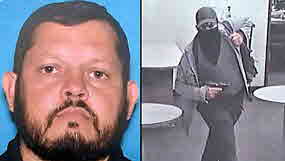 while the Golden State has enacted much of what Giffords calls for (its full wish list is here), California citizens are still getting gunned down. On March 31st., just as we were trying to put the wraps to this essay, a middle-aged Southern California man burst into a local shop with whom he had a "business and personal relationship" and opened fire with a 9mm. pistol, killing four and critically injuring one. Among the dead was a nine-year old boy. His killer, Aminadab Gaxiola Gonzalez, 44 had locked the gates of the complex when he went in to carry out the massacre. He was seriously wounded by police.
Unlike Georgia's Robert Long or Colorado's Ahmad Al Aliwi Alissa, Gonzalez had a criminal record. In 2015 he was charged by Orange County, Calif. authorities with multiple counts including cruelty to a child. He ultimately pled guilty to misdemeanor battery and served one day in jail. Our court record search confirmed that two criminal cases were filed against Gonzalez within a two-day span in April 2015: one was an "infraction," the other a misdemeanor. According to authorities, his conviction for the latter was expunged in 2017 after he successfully completed probation. Alas, even tough ol' California doesn't prohibit persons with expunged records from having a gun. So by all appearances, Mr. Gonzalez was free to gunsling to his heart's delight.
Be sure to check out our homepage and sign up for our newsletter
Where does this leave us peace-loving folks? Would we be safer if background checks were required for private party transfers? If waiting periods were the rule? If cops and family members could petition for gun seizures? If rifles couldn't have removable magazines? If there were strict limits on ammunition capacity? If manufacturers couldn't use nonsensical tweaks to magically transform assault rifles into handguns? Gun-control advocates say yes, absolutely. Stronger gun laws, they're convinced, reduce gun violence. And they insist that the data bears them out.
Is that true? We'll have a look at the numbers next time in, alas, Part III.
UPDATES
7/11/21 A San Diego Superior Court judge ruled that the victims of John Earnest, who stormed into a Poway synagogue in 2019 and opened fire with an AR-15 type rifle that he bought in a local gun shop, killing one and wounding three, can sue Smith & Wesson for marketing a gun that was easily modified into a state-prohibited assault weapon. Victims can also sue the seller, who didn't confirm that Earnest, who was nineteen, had the hunting license California requires for persons under 21 to buy long guns. (See 4/29/19 and 8/4/19 updates.)
6/20/21 Responding to the decision by a Boulder judge to invalidate the city's ban of assault weapons, such as the Ruger AR-556 "pistol" used by Ahmad Al Aliwi Alissa, a new State statute specifically authorizes cities to enact their own gun laws. So it's expected that Boulder's law will be reinstated. Still, Alissa bought the gun in Arvada, where, as in the rest of Colorado, such weapons remain legal.
5/10/20 On May 9 a "jealous and controlling" boyfriend barged into a birthday party being held in a mobile home at a Colorado Springs mobile home park and opened fire. Teodoro Macias, 28, killed six members of an extended family, including his girlfriend. He then turned the gun on himself, inflicting a fatal wound. Macias has no known criminal record; his 9mm pistol had been locally purchased by a third party in 2014. It is said that Macias was angry at being excluded from the event. This tragedy came only six weeks after Ahmad Al Aliwi Alissa shot and killed ten in the Boulder supermarket.
4/9/21 President Biden announced a regulatory initiative that would expand the definition of a firearm to include kits that presently allow persons to assemble unserialized "ghost guns." Regulations would also keep manufacturers from transforming rifles into so-called "pistols," such as the gun recently used in the Boulder massacre, by the expedient of replacing stocks with "braces." But other gun-control moves, such as a ban on importing assault weapons, would require legislation, and in this political environment enacting new Federal gun laws seems a reach.
Did you enjoy this post? Be sure to explore the homepage and topical index!
Home Top Permalink Print/Save Feedback
---
RELATED POSTS
Washington Post op-ed: "Want an assault weapons ban that works? Focus on ballistics.
Special sections: Mentally Ill Gun Massacres
An American Tragedy Don't Like the Rules? Change Them! Four Weeks, Six Massacres
One Week, Two Massacres Going Ballistic Red Flag (I) (II) Ban the Damed Things
Do Gun Laws Work? Massacre Control A Lost Cause Coming Clean The Elephant in the Room
---
Posted 3/24/21
ONE WEEK, TWO MASSACRES
An Atlanta man buys a pistol. Hours later eight persons lie dead.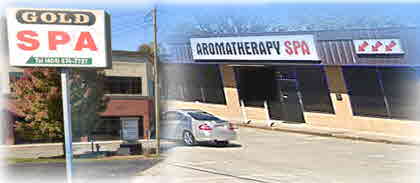 For Police Issues by Julius (Jay) Wachtel. According to the World Health Organization, "compulsive sexual behavior disorder" is an impulse control disorder "characterized by a persistent pattern of failure to control intense, repetitive sexual impulses or urges." In the U.S., though, the levers of power are held by the American Psychological Association. And it's repeatedly refused to officially recognize a like syndrome, "hypersexual disorder," as a bonafide mental disorder. APA's dictionary, though, does offer a catchy definition of yet another wannabe, "sexual addiction":
The defining features of a sexual addiction include sexual behavior that is out of control, that has severely negative consequences, and that the person is unable to stop despite a wish to do so. Other features include persistence in high-risk, self-destructive behavior; spending large amounts of time in sexual activity or fantasy; neglect of social, occupational, or other activities; and mood changes associated with sexual activity.
Whatever one calls Robert Aaron Long's condition, there's no doubt that the twenty-one year old resident of Atlanta was obsessed with sex. A former roommate at a local rehab facility where Long spent several months receiving treatment for sex addiction said that his buddy was "tortured" by his compulsive thoughts, and especially so because he was very religious. Long complained that he simply couldn't stay away from massage parlors, which he frequented for sex: "He'd feel extremely guilty about it. He'd talk about how he was going to harm himself." Yet Long also shared good things about his upbringing. A favorite memory was of getting a gun when he was ten.
Click here for the complete collection of gun control essays
Long's "passion for guns and God" was mentioned in The Daily Beast. His since-deleted Instagram account reportedly featured the tagline "Pizza, guns, drums, music, family, and God. This pretty much sums up my life. It's a pretty good life."
Apparently, not so much. Long's parents had reached the end of their ropes. Fed up with their son's obsession with pornography and his repeated visits to parlors for "massages with happy endings," they kicked him out of the house. That supposedly happened on March 15. On the very next morning Long bought a 9mm. pistol at a gun store. Like most buyers, he apparently quickly passed the Fed's automated "Insta-Check." Georgia doesn't have its own waiting period or background check, so Long promptly left with the gun.
His murderous spree began within hours. It would claim eight lives. Long's first stop was in the Atlanta suburb of Acworth, wher he burst into Young's Asian Massage. His fusillade left four dead: owner Xiaojie Tan, 49, masseuse Daoyou Feng, 44, handyman Paul Andre Michel, 54, and customer Delaina Yaun, 33. Long also shot and seriously wounded Elcias Hernandez-Ortiz, a passer-by. He then drove to Atlanta's "Cheshire Bridge" area. Long opened fire inside Gold's Spa and, across the street, at Aromatherapy Spa. In all, four employees were killed: Yong Ae Yue, 63, Hyun Jung Grant, 51, Soon Chung Park, 74, and Suncha Kim, 69.
Informed that their son was wanted, Long's parents told police that his car had a tracking device. A highway patrol officer spotted the youth and performed a pit maneuver. Long's car spun out and he promptly surrendered. His pistol was in the car. Word is he was on his way to Florida, where he intended to continue his murderous spree.
Six of Long's victims were of Asian descent. That brought on a torrent of speculation that Long, who is White, was motivated by racial animus. But while pundits have feverishly cited the tragedy as the undeniable product of racism, we haven't come across any reliable information that Long was a bigot. Indeed, he insisted that he wasn't a racist but was angry at the spas for feeding his sexual obsessions. They were, he allegedly told the cops, "a temptation that he wanted to eliminate."
Indeed, such "temptations" abound in the Cheshire Bridge area where Gold's and Aromatherapy are located. According to the Atlanta Journal-Constitution the zone has been long known as the city's "unofficial red light district" (click here for the paper's earlier, comprehensive account about the area's notoriety.) During 2011-2013 Atlanta police arrested ten employees of Gold's Spa who "offered to perform sexual acts on undercover officers for money." Each of the arrested was female, and several listed the spa as their place of residence. According to USA Today all three massage parlors are listed on erotic review site "Rubmaps," and user comments mention their special "benefits." Young's Asian Massage is supposedly being investigated for prostitution, and police received complaints about possible sex work and exploitation at the other two spas as recently as 2019. Yet city officials insist that as far as they know the businesses operate legally.
So we'll leave it at that. Our focus is on a concern that your writer, a retired ATF special agent, can personally attest to: the ease with which deeply-troubled persons can "legally" acquire guns at retail. Posts in our Gun Massacres special topic have repeatedly discussed the problem. Long seemed clearly in the grips of a mental crisis. But he wasn't a felon. He was never involuntarily committed to a mental institution nor formally adjudged mentally defective. So nothing in Federal law prohibited him from buying a gun, impulsively or otherwise.
Many States have adopted a variety of measures to address such gaps. Some extend the prohibition on gun possession to certain categories of misdemeanants. And/or expand the definition of disabling mental conditions to include voluntary treatment. And/or impose mandatory "waiting periods" before firearms can be delivered. A few have even enacted "Red Flag Laws" (also known as "extreme risk protection laws") that empower judges, based on information from police and family members, to order the confiscation of guns from risky individuals
When it comes to Long, though, none of that was available. Georgia, whom the Giffords gun-control group regularly awards an "F", has not enacted any restrictions that go substantially beyond Federal gun laws. It doesn't offer a way to preemptively seize guns. Neither does it impose a waiting period on gun deliveries. It's basically "walk in with the loot, walk out with the heat".
Had he been forced to wait ten days before picking up the gun, would Long have still carried out the massacre? Could a delay have blunted its impulsive underpinnings? Might a deeply-troubled young man have rethought his intentions? It's impossible to say, but at the very least eight people would have stood a chance of staying alive.
But Long didn't have to wait, and the consequences are plain to see.
In past years we've written about other gunslinging youths with long-standing mental issues of which family and friends were well aware. For example, Elliot Rodger. A 22-year old college dropout, he had received mental treatment since childhood. Rodger eventually settled in Isla Vista, a Santa Barbara (CA) neighborhood populated by students. He would soon produce and share a lengthy and chilling "manifesto" that excoriated co-eds for spurning him sexually:
I will punish all females for the crime of depriving me of sex. They have starved me of sex for my entire youth, and gave that pleasure to other men. In doing so, they took many years of my life away.
During 2012-2013 Rodger bought three 9mm. pistols at two gun stores and practiced with them at a range. On May 23, 2014, two weeks after a call from his worried parents prompted a visit by Sheriff's deputies (they were satisfied he was o.k. and left) Rodger stabbed three students to death. He then went on a shooting rampage, killing three more students and wounding thirteen. Rodger then shot himself dead.
Then there's Jared Lee Loughner. Also twenty-two, and also a one-time student – he had been expelled from an Arizona college for erratic behavior – Loughner opened fire with a 9mm. pistol at a January 8, 2011 Tucson political event. Six fell dead and thirteen were wounded. One of the latter was then-Representative Gabrielle Giffords (D-Az), who went on to found the well-known gun control group whose website we referenced above. Loughner bought his gun at a local gun shop five weeks earlier. On the morning of the massacre he went to get ammunition but his odd behavior led one store to turn him away (he got what he wanted at another store.) After his arrest Loughner was placed on medication and confined to a mental ward. He ultimately pled guilty and was sentenced to "forever."
Be sure to check out our homepage and sign up for our newsletter
Just like Long, Elliot Rodger and Jared Loughner readily bought guns at a store. Both were free of felony convictions. While each was (like Long) a longtime mental basket case, neither had been committed to a mental institution nor formally adjudged as mentally defective. Both had reached that magical age – twenty-one – that qualified them to purchase a handgun. (Eighteen is the Federal minimum for buying a rifle or shotgun at a store.)
Before Boulder happened we intended to present data – we've put together some fascinating numbers – that probes the effects (if any) of waiting periods and such on State homicide rates. But things have changed. So once we collect enough information about the Colorado massacre we'll be back with Part II. Hopefully that will conclude the series.
UPDATES
7/28/21 On July 27 Robert Aaron Long pled guilty to each of the four murders he committed at Young's Asian Massage and was sentenced to four life terms without parole. But the prosecutor for the four murders at Gold's Spa still seeks the death penalty. At sentencing, Long said his parents kicked him out for discontinuing sex addiction treatment. Long said he had intended to get sex then commit suicide, but that he got drunk and decided to commit "vigilante justice" against commercial sex peddlers.
Did you enjoy this post? Be sure to explore the homepage and topical index!
Home Top Permalink Print/Save Feedback
---
RELATED POSTS
Special topics: Gun Massacres Police & the Mentally Ill
Four Weeks, Six Massacres Two Weeks, Four Massacres Red Flag (I) (II) Do Gun Laws Work?
Massacre Control A Lost Cause Coming Clean in Santa Barbara The Elephant in the Room