ANOTHER VICTIM: THE CRAFT OF POLICING
Ronald Greene succumbed to police abuse one year before
George Floyd. How they perished was appallingly similar.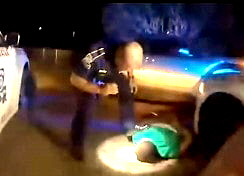 For Police Issues by Julius (Jay) Wachtel. "Let me see 'em...let me see your [curse] hands...[curse]..." Louisiana State Trooper Dakota DeMoss' body camera graphically captured what happened (and what was said) during the early morning hours of May 19, 2019 when he and a colleague forcefully extracted the driver of a recklessly-driven vehicle that crashed after a prolonged pursuit. (Click here for LSP's video channel, here for the full bodycam video of the initial encounter and here for our edited clip of the arrest.)
Ronald Greene, 49 isn't armed. Neither does he forcefully resist, at least in any conventional sense. But his confused mental state, clumsiness and immense size (shades of George Floyd) clearly irritate the officers, and one promptly shoots him with a Taser. That rough handling – and virtually non-stop cursing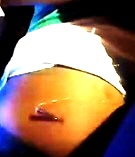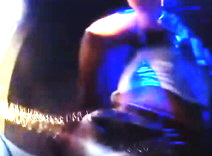 – continues as troopers drag Mr. Greene from the car and place him on the ground, belly down. That's when the impaled dart comes into view (left.) An officer – according to news reports, DeMoss – tells Mr. Greene to "put your hands behind your back, [curse]" but the scared, disoriented man seems unable to comply. Arms outstretched, he whimpers "I'm sorry." After some blows and a long string of unproductive curses, a trooper delivers another jolt through the Taser (right). Mr. Greene continues whimpering and begging for mercy, but troopers ignore his protests and, handcuffs affixed, order him to lay on his stomach.
Click here for the complete collection of conduct and ethics essays
Unlike what happened to George Floyd, once Mr. Greene was handcuffed he wasn't constantly pressed into the ground. Still, troopers repeatedly warned him to stay on his stomach and occasionally applied force to that effect. Our top image, taken at 5:40 am, about twelve minutes into the encounter, depicts an officer pressing on Mr. Greene as he orders "don't you turn over, lay on your belly, lay on your belly" (click here for a brief video clip.) But a few moments later another bodycam video (click here) shows two troopers watching over Mr. Green as he partially sits up.
Many other aspects of this encounter resemble what happened to George Floyd. Troopers handled Mr. Greene very roughly, especially at first. They forcefully extracted him from his car, delivered multiple blows with their fists and jolted him repeatedly with a Taser. Mr. Greene. like Floyd, behaved oddly, mumbling supplications to Lord Jesus in a high-pitched tone of voice. As it turns out, he was also under the influence of a powerful drug: in his case, cocaine. Rough treatment, frail mental and physical health and chemical intoxication comprise the bedrock of the syndrome known as "excited delirium." A Minneapolis cop thought that it applied to George Floyd. Louisiana's Union Parish Coroner reportedly identified it as the underlying cause of Mr. Greene's death: "cocaine induced agitated delirium complicated by motor vehicle collision, physical struggle, inflicted head injury, and restraint."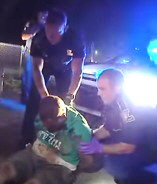 Throughout the first fifteen minutes or so Mr. Greene was conscious and talkative. But as time passed he became unresponsive. This image, taken about 5:46 am, depicts troopers as they begin rendering aid. An ambulance was called. Unlike what happened to Mr. Floyd, troopers closely attended to Mr. Greene after his collapse (click here for a clip.) Alas, it proved too little, too late.
It's not that Mr. Greene shouldn't have been arrested. He was mentally and physically unwell, under the influence of a narcotic, and in no shape to drive. Mr. Greene reportedly ran a stop sign and a traffic light, and during the chase a trooper anxiously radioed that "we got to do something" as Mr. Greene's car was speeding down the "wrong side of the road" and "could kill somebody." Yet watch that video clip of the arrest. Mr. Greene's handling by the two troopers who first encountered him was abominable. Here's what one of these officers (we think, DeMoss) told another trooper by radio as an ambulance rushed Mr. Greene to the hospital (click here for the clip with audio):
Well, I think this guy was drunk...and I think he was wet...and I beat the ever-luving 'fuck out of him, choked him and everything else trying to get him under control...and we finally got him in handcuffs when [someone else] got there, and the sonofabitch was still fighting with me and still wrestling with me...gotta hold him down since he was spittin' blood everywhere. And all of a sudden he just went limp. Yeah, I thought he was dead. We set him up real quick...he's on an ambulance enroute to...and I'm haulin' ass trying to catch up to them.
Tragically, the recipient of that transmission, Trooper Chris Hollingsworth, an 18-year veteran, reportedly perished in an off-duty auto accident "shortly after learning he was being fired for his role in Greene's death."
If all we expect from police is to handle recalcitrant persons however they wish, our "Selection and Training" section – indeed, our entire website – is superfluous. When it comes to the arrest of George Floyd and Ronald Greene, my non-police neighbors would have done better. Of course, so would most other cops. Officers run into clearly troubled characters such as Mr. Greene as a matter of course. And as a matter of course they apply patience and some good-natured persuasion to avoid needlessly turning to force. When involved in fraught encounters, most cops follow the rules of their intricate and demanding craft. They brush off intrusive thoughts such as anger and frustration because they know that getting emotional can poison their decisions. As we've said before, there's absolutely nothing new about the trendy concept of "de-escalation"; cops who respect their craft – and we assume they're in the vast majority – have faithfully practiced its precepts since the times of Robert Peel.
Yet cops are human, so exceptions keep popping up. Minneapolis was one. We quickly "diagnosed" ex-cop Chauvin's actions

as an effort to discipline and humiliate. It's why our essay, posted eleven days after the tragedy, was entitled as shown. What happened to Mr. Greene in Louisiana seems equally appalling. Whatever notions of "craft" the first officers on scene might have had were instantly extinguished by waves of anger.
But the troopers were experienced cops. This wasn't their first pursuit. They weren't assaulted or shot at. So why all the rage? In "Angry Aggression Among Police Officers" (Police Quarterly, March 2003) Sean P. Griffin and Thomas J. Bernard surmise that the chronic stressors of policing can make officers aggressive, and that they're prone to take it out on the most vulnerable. So who might that be? As Jeannine Bell argues in "Dead Canaries in the Coal Mines: The Symbolic Assailant Revisited," (34 Georgia State University Law Review 513, 2018) citizens who fit a certain Black male stereotype may be at particular risk. She cites the examples of Tamir Rice, Philando Castile and Alton Sterling. And now we can add George Floyd. And Ronald Greene.
We're not arguing that police abuses are inevitable. Officer personalities vary, and at least in this writer's experience, most cops seem to handle the burdens of their craft rather well. Unfortunately, agencies have failed to correct officers who repeatedly goof up. As we discussed in "Third, Fourth and Fifth Chances," failure to reign in errant cops can easily lead to disaster. And we have a ready example. On February 8, 2021, nearly two years after his force-rich, expletive-laden confrontation with Mr. Greene, Trooper DeMoss and two LSP colleagues were booked by their own agency on misdemeanor charges of "simple battery and malfeasance in office" for using excessive force and turning off their body cameras during a 2020 traffic stop.
And just as we "go to press" the craft of policing suffers additional blows:
Washington State authorities announced the arrest of three Tacoma police officers on murder and manslaughter charges for needlessly pummeling, choking and Tasering Manuel Ellis, a 33-year old Black man, during a seemingly minor encounter on March 3rd. Mr. Ellis complained that he couldn't breathe, and then he died.

Los Angeles prosecutors filed perjury charges against a promising L.A. County sheriff's deputy for lying during a preliminary hearing. Deputy Kevin Honea, 33 testified that he found a handgun in the front of a vehicle. Its ready availability helped bind over the car's occupants on robbery charges. In fact, a motel security camera showed that another deputy found the weapon in a box in the car's trunk.
Would Trooper DeMoss be facing charges over a year-old traffic stop had Mr. Greene's death not become a matter of national interest? Would the speedy decision to prosecute the Tacoma officers – we haven't looked into their culpability, but things look bleak – have happened in the absence of Derek Chauvin's trial and conviction? Ditto, Deputy Honea. While his superiors ascribed his testimony to "sloppiness" and levied a brief suspension, L.A. County's new, progressively-minded D.A., George Gascon, took a far sterner approach.
Examining policing under a microscope is no longer a thing of the "future."
What's our takeaway? As we pitched in "More Rules, Less Force?" positive change can't be accomplished by simply making more rules. Instead we must focus on "craft." Police must redouble their efforts to advance the practice of their demanding vocation. In "Why Do Officers Succeed?" (Police Chief, July 2020, p. 26) we suggested that agencies collect examples of good work within their own ranks and use them "to stimulate dialogue about quality policing and the paths to that end."
Officers could be asked to describe recent episodes of fieldwork whose outcomes they found especially gratifying. Examples might range from the seemingly mundane, such as gaining critical information from a hostile resident, to the more noteworthy, say, peacefully and safely taking a dangerous and combative suspect into custody. To learn how these successes came about, officers would be asked to identify the factors they believe helped produce such good results.
Imagine roll-call sessions that focus on craft. And supervisors and senior officers who convey their perspectives about what makes for quality policing to young cops. And should the "uncrafty" take place, promptly step in.
Be sure to check out our homepage and sign up for our newsletter
No, that's not dreaming. And while we don't discount formal training, the actual workplace seems to exert the greatest influence on how things actually get done. It's where craftspersons – nurses, physicians, soldiers, plumbers, automobile mechanics and, yes, cops – get "broken in" to their demanding occupations. Naturally, agencies would have to pitch in. Most importantly, they would have to reel in pressures to make "numbers" that, as we've repeatedly complained, can stretch the notion of quality to its breaking point.
Or we can keep driving down this unimaginative, bleak road. It does have an end. It's called "defunding."
UPDATES
9/17/21 With time and money running out and only 200,000 of the required 580,000 voter signatures on hand, recall backers suspended their effort against George Gascon, L.A.'s progressively-minded new D.A. But they vow to be back. Gascon's moves to end cash bail and prohibit assistant D.A.'s from seeking death penalties and sentence enhancements angered crime victims and many of his own deputies.
9/12/21 A Louisiana State Police panel formed to review bodycam videos from prior stops by officers from the same Troop that tangled with Ronald Greene was "abruptly disbanded." According to the AP, the footage depicts beatings and excessive uses of force dating back to 2019. A police official recently retired after admitting he routinely approved use-of-force reports without watching the videos. Federal investigators examining Greene's beating are reportedly looking into these incidents as well.
9/9/21 Loveland, Colorado settled a lawsuit filed by the family of Karen Garner, a 74-year old woman whom two police officers violently arrested in June 2020 after she reportedly shoplifted $14 worth of goods from a Walmart. Garner, who suffers from dementia, says she forgot to pay. Both officers resigned. In May 2021 one was charged with assault, and the other with not intervening and failure to report. A video depicts the officers in the station, laughing after the arrest. One said "I love it. This is great."
6/30/21 In December 2015 St. Louis police arrested Nicholas Gilbert for trespassing and placed him in a cell. Gilbert acted as though he was suicidal and became violent. Officers handcuffed and shackled Gilbert and forcefully held him down on his stomach. After fifteen minutes. Gilbert died. His family's Federal lawsuit was rejected by a District Court which found that the officers had qualified immunity. On appeal, a Circuit Court held that constitutionally excessive force wasn't used. But in Lombardo v. St. Louis (no. 20-391, 6/28/21) the Supreme Court sent the case back to the Circuit to consider whether prone positioning was reasonable given its known dangers and the agency's own warnings about its use.
Did you enjoy this post? Be sure to explore the homepage and topical index!
Home Top Permalink Print/Save Feedback
---
RELATED ARTICLES
The Craft of Policing Why Do Officers Succeed? Production and Craftsmanship
RELATED POSTS
Quantity and Quality special topic Third, Fourth and Fifth Chances Turning Cops Into Liars
Violent and Vulnerable Punishment Isn't a Cop's Job De-escalation Is it Always About Race?
---
Posted 1/4/21
THIRD, FOURTH AND FIFTH CHANCES
Some cops repeatedly avoid meaningful sanctions.
Then disaster strikes.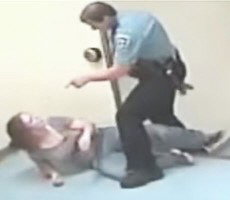 For Police Issues by Julius (Jay) Wachtel. Let's begin with a colorful quote:
Lots of times some skell [a mope] is fighting a cop tooth and nail, then a cop loses control, which is easy to do, and then you lose your temper and somebody videotapes you, and the next thing you know you're losing your job.
Retired NYPD sergeant Mike Bosak's words aptly describe the potentially career-busting perils his former colleagues faced on the morning of April 10, 2009 when a horde of student protesters burst through the doors of The New School, a local university. Video footage taken inside the institution depicted officers going about their business calmly as students staged a sit-in. But what happened in the chaos of the streets was something else, with officers chasing protesters in a helter-skelter fashion reminiscent of the Keystone Cops.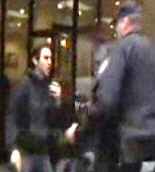 That's what worried the former sergeant. Watch as that angry cop aggressively approaches a student who's yelling "shame on you!" and shoves him to the ground. Fortunately the shovee was not seriously hurt. But imagine the consequences had the young man's head forcefully struck the pavement. Such as what happened to the senior citizen protester in "Gold Badges".
Your writer can personally attest that officers habitually shrug off taunts and worse. Yet many cops are burdened with colleagues who repeatedly manifest poor self-control. As headlines regularly remind us, when armed humans lose their cool the consequences can be dreadful. In a recent investigative piece, "The Bad Cops: How Minneapolis protects its worst police officers until it's too late," the Minnesota Reformer reviewed records of citizen complaints against Minneapolis officers between 2013-2019. It found 1,924. Sixty percent were closed without action. Thirty-five percent led to "coaching"; two percent to "mediation." Discipline was imposed in three percent of cases. Those 53 included 24 suspensions, 22 letters of reprimand, one demotion, and a relatively measly six firings.
Click here for the complete collection of conduct and ethics essays
Over the years Minnesota news outlets have chronicled the saga of a certain veteran officer and police union functionary. We'll refer to him as MPD1. According to Minnesota Public Radio MPD1 was the subject of "more than 30" complaint investigations between 2000-2016. While most were apparently closed without action, he received two letters of reprimand in 2012 and was suspended twice in 2013.
MPD1's first incident of note happened in 2011, when he and another officer severely kicked a man whom they suspected had a gun. Their target, whom they rendered unconscious, turned out to be unarmed. He sued, and the city eventually paid out $85,000. Yet that didn't slow the officer down. One year later an online video shows MPD1 choking one activist and dousing others with pepper spray. Those scenes are followed by a clip that depicts his rough handling of a news photographer during an earlier encounter.
Fast-forward to December 2013. That's when MPD1 allegedly kicked a handcuffed prisoner in the face as he sat in a patrol car, breaking the eighteen-year old's nose and jaw and knocking out his two front teeth. Again there was litigation. And again officer MPD1 remained on active duty. Eight months later, in August 2014, he and a partner responded to a domestic disturbance call. A video of the encounter shows MPD1 pushing a woman to the ground right after she opens the front door, then again once he's inside (top photo). He also allegedly called her a profanity.
That proved too much for Chief Janee Harteau. She placed MPD1 on leave. Her words clearly foretold her intentions:
Public trust and procedural justice is vital in our ability to effectively protect and serve, and as a result I have lost all confidence in [MPD1's] ability to serve the citizens of Minneapolis due to his poor judgment and his lack of integrity.
MPD1's behavior does seem awfully heavy-handed, and he was fired. But in October 2016 an arbitrator decided that his conduct, while out of line, didn't warrant termination. Punishment was reduced to a week's suspension and MPD1 was awarded back pay. Chief Harteau promptly communicated her displeasure:
I am disappointed in the arbitrator's decision. These rulings hinder my ability, as a Police Chief, to create an effective culture of accountability within the Department.
So she took another tack. Minneapolis had paid $360,000 to the victim of the 2013 kick-in-the-face. But its internal investigation of MPD1 was set aside when he was fired for pushing the woman. Keeping MPD1 on paid leave, Chief Harteau reopened the earlier case, and in February 2019 fired him again. This time the arbitrator (same one as before) saw things differently:
This amounts to six serious use of force violations in the period from 2012 to 2015. This pattern of continued use of force violations poses a significant problem for the MPD. This conduct damages police-community relations and subjects the City to the potential of significant civil liability.
MPD1's termination was final in November 2019. But he's not the reason why Chief Harteau lost her job. That can be blamed on another officer. We'll refer to him as MPD2. In July 2017 he shot and killed Justine Damond Ruszczyk as she walked up to his idling patrol car. MPD2 didn't realize that Ms. Ruszcyk was the 9-1-1 caller and found her unexpected approach frightening. At the time MPD was already in the hot seat over a series of incidents, including the killing of Jamar Clark two years earlier. So after promptly agreeing that "Justine didn't have to die" Chief Harteau resigned. State agents assembled a case against MPD2. He was convicted of murder and manslaughter in 2019 and sentenced to 12½ years. Minneapolis settled the family's wrongful death lawsuit for $20 million.
MPD2 had only two years on the job when he killed Ms. Ruszczyk. During that time he amassed three complaints: one led to a lawsuit, and two remained under investigation. If that doesn't seem like much, consider keeping up that pace for, say, nineteen years. That's how long former MPD officer Derek Chauvin had served when he was filmed kneeling on George Floyd's neck. By then he had accumulated eighteen complaints. But "only" two led to discipline! Update: During the hiring process two psychiatrists questioned MPD2's "fitness for duty," in part because he seemed more likely to become impatient with citizens over minor matters. MPD2 had also "reported disliking people and being around them."
It's not just Minneapolis. Troubled officers have been linked to tragic events across the U.S. "Should Every Town Field Its Own Cops?" offered several examples. Among them is the well-known 2014 episode where a rookie Cleveland cop shot and killed Tamir Rice, a 12-year old boy who was playing with a toy gun. Cleveland hired the officer even though his former agency asked him to leave after only one month for behavioral reasons. His applications were rejected by a long string of departments, but Cleveland took him on anyways.
Litigation over police misconduct has bedeviled American cities. Recent pieces in the Washington Post and the Wall Street Journal reveal that local governments have been forking over eye-popping amounts to settle claims of officer abuse:
Chicago: About $253 million since 2015
Dallas: $3.7 million since 2015
Detroit: $28.5 million since 2015
District of Columbia: More than $40 million since 2016
New York City: More than $1.1 billion since 2015
Los Angeles County: More than $238 million since 2015
Neither article tracks the damage caused by cops with dodgy histories. However, according to the Washington Post, five D.C. settlements since 2015 involve the same cop. One payout, for $25,000, was supported by video that "shows [the officer] pinning [the complainant's] arms with his knees, pummeling him and showering him in pepper spray." This officer was also twice accused of harassment in 2016. Both complaints were sustained and he got "additional training." And yes, he's still on the job.
Thanks to all the attention, the issue of so-called "bad apple" cops may be gaining more traction. But one well-traveled expert isn't holding his breath. "The review process," says former police chief Daniel Oates, "is staggeringly favorable to bad cops." Mr. Oates, a lawyer who commanded NYPD intelligence and led the Ann Arbor, Aurora and Miami Beach police departments blames chiefs' powerlessness on "a combination of state and local laws, union contracts, and past labor precedents." State peace officer "bill of rights," as in Florida, and civil service commissions that seem eager to reverse disciplinary decisions only add to the difficulties.
On the other hand, strict controls have reportedly led to officer "slowdowns." It's not just about rogue cops. Citizen fears about overly passive officers can erode a chief's standing as well. In fall 2020, as she prepared to assume the prestigious mantle of IACP President, then-Santa Monica police chief Cynthia Renaud came under withering fire over her alleged failure to unleash the troops so they could effectively counter the "widespread looting and vandalism" that beset the coastal enclave. Indeed, the pressure became so pronounced that Chief Renaud reluctantly retired.
So what can be done about "bad apples"? At present, the International Association of Directors of Law Enforcement Standards and Training maintains a national, non-governmental index that identifies officers who have been decertified by state peace officer licensing authorities. It's for agency use only. In June 2020 President Trump issued an executive order directing DOJ to develop a database that, in addition to decertifications, includes on-duty criminal convictions "and civil judgments against law enforcement officers for improper use of force." That remains a work in progress.
USA Today has also stepped in. Working with the Citizens Police Data Project, which focuses on Chicago cops, it has assembled information on "at least 200,000 incidents of alleged misconduct" involving about 85,000 law enforcement officers across the U.S. At present, searches are limited to decertified officers.
Be sure to check out our homepage and sign up for our newsletter
According to the Los Angeles Times, a national registry of officer misconduct was first proposed in the 1994 Federal crime bill. However, we found that the enacted provision restricts using data to "research or statistical purposes" and prohibits including "any information that may reveal the identity of the victim or any law enforcement officer." So its utility in controlling rogue cops seems nil.
Policing is a craft whose proper exercise requires a great deal of skill and courage. Good cops – and they're the vast majority – don't want to work with thoughtless, impulsive colleagues. No doubt there are many officers, managers and chiefs who would very much like to improve things. But given our deeply polarized sociopolitical environment, substantial improvements will likely have to wait. For the foreseeable future, third, fourth and fifth chances will in many places remain the norm.
UPDATES
9/4/21 A proposed California law that would authorize the state's Peace Officers Standards and Training Commission to decertify officers for serious misconduct has drawn opposition from police officer groups. A major concern is that seven of the nine members of a proposed oversight panel would not be required to have police experience, potentially rendering their decisions "biased" and "amateurish."
2/2/21 Two prior uses of force by Derek Chauvin, the ex-Minneapolis officer who held down George Floyd by leaning on his neck, will be introduced at his murder trial. One is a June 2017 arrest in which he did the same to a woman, and another is a similar incident in 2015. But the judge denied prosecutors' bid to bring up other instances of alleged physical abuses by Chauvin, or any by officers Thao and Kueng, who are being tried separately. Defense requests to introduce Floyd's prior arrests, including one in which he allegedly behaved similarly to the fatal encounter, were also denied.
1/22/21 In June 2020 a Los Angeles County sheriff's deputy shot and killed Andres Guardado, 18, when the youth, who was lying on the ground at the end of a foot chase, allegedly reached for a gun. Guardado sustained five bullet wounds, all in the back. Other than being seen with a gun, he was not suspected of a crime. In December 2020 the two deputies who chased Guardado were relieved of duty over an April 2020 traffic crash. An informer has also said the deputies sought to join the "Executioners" clique, which their lawyer denies. For more see Want Happy Endings? Don't Chase.
Did you enjoy this post? Be sure to explore the homepage and topical index!
Home Top Permalink Print/Save Feedback
---
RELATED POSTS
Damn the Evidence - Full Speed Ahead! Another Victim: The Craft of Policing
A Risky and Informed Decision Want Happy Endings? Don't Chase Gold Badges Can be the Problem
Punishment Isn't a Cop's Job Informed and Lethal Police Slowdowns (I) (II)
Should Every Town Field Its Own Cops? Three (In?)explicable Shootings