Posted 10/10/20, edited 12/30/20
R.I.P. PROACTIVE POLICING?
Volatile situations and imperfect cops guarantee tragic outcomes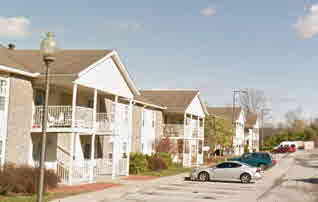 For Police Issues by Julius (Jay) Wachtel.
Banged on the door, no response. Banged on it again no response. At that point we started announcing ourselves, police, please come to the door. So we kept banging and announcing. It seemed like an eternity.
That, according to Louisville police sergeant Jonathon Mattingly, is how the infamous March encounter began. In testimony before a Grand Jury, the supervisor whose bullet (according to the FBI) fatally wounded Breonna Taylor insisted that despite the search warrant's "no-knock" provisions he and his companions, Detectives Myles Cosgrove and Michael Nobles and former Detective Brett Hankinson, loudly announced their presence and only smashed in because no one promptly came to the door.
As soon as they entered chaos erupted. Ms. Taylor's boyfriend, Kenneth Walker, whose presence the officers didn't expect "was standing in the hallway firing through the door." One of his bullets pierced Sergeant Mattingly in the leg. He and detectives Cosgrove and Hankinson returned fire. Walker escaped injury, but bullets fired by Mattingly and Cosgrove fatally wounded Breonna Taylor, the apartment's occupant of record. Meanwhile Hankinson's barrage went wildly off the mark, peppering another apartment but fortunately striking no one.
Click here for the complete collection of compliance and force essays
Kenneth Walker said he thought the officers were criminals breaking in. He was arrested for shooting Sergeant Mattingly but ultimately escaped prosecution. (He blames cops for firing the shot that struck the officer.) In June the police chief fired Detective Hankinson, who was disciplined a year earlier for recklessly injuring a citizen. And on September 15 the city announced it was settling a claim filed by Ms. Taylor's family for $12 million. That's reportedly one of the largest payouts of its kind, ever.
Grand jurors returned their findings one week later. Neither Mr. Walker nor the officers who unintentionally killed Ms. Taylor were charged. However, former cop Hankinson was indicted for discharging the fusillade that endangered other tenants. He pled not guilty and awaits trial.
---
It's not surprising that Ms. Taylor's killing has taken on such significance. Compare it with two other recent cases: Mr. George Floyd, who died after being roughly handled by a Minneapolis cop, and Mr. Rayshard Brooks, who was shot dead by an Atlanta police officer during a foot chase. Mr. Floyd and Mr. Brooks fought police; Mr. Brooks went so far as to fire at his pursuer with the Taser he grabbed from another cop. In contrast, Ms. Taylor did absolutely nothing to warrant rough handling. She was in her own apartment, just standing there when officers opened fire. Her killing was clearly a lethal error.
Law enforcement officers serve search warrants and engage in other high-risk activities every day. Many of these episodes involve dangerous characters, yet most conclude peacefully. However, since most research of police use of force focuses on episodes with bad endings, we know little about the factors that underlie successful outcomes. (That gap, incidentally, is the subject of your writer's recent essay, "Why Do Officers Succeed?" in Police Chief.)
Given the extreme circumstances that the officers encountered at Ms. Taylor's apartment, return fire by Sgt. Mattingly and detective Cosgrove might have been unavoidable. Tragically, their rushed response proved lethally inaccurate. In "Speed Kills" we mentioned that blunders are likely when officers act hastily or impulsively. Consider the July 2018 episode when, after shooting his grandmother, a Los Angeles man led police on a wild vehicular pursuit. It ended at a retail store where the suspect bolted from his car and ran inside as he fired at the officers. They shot back, missing him but fatally wounding an employee.
Lethal foul-ups also happen when suspects don't shoot. In February 2019 late-arriving New York cops unleashed a barrage at an armed suspect who was fleeing the store he just robbed. Two plainclothes officers who were already on scene got caught in the middle: one was wounded and the other was killed. The suspect's handgun turned out to be fake. Seven months later an NYPD officer repeatedly fired at a felon with whom he had physically tangled. That led arriving officers to mistakenly conclude that they were being shot at. So they opened fire, killing both their colleague and the suspect. His unfired revolver lay nearby.
Police behavior is unavoidably influenced by the well-known risks of the job. And those are indeed substantial. According to the LEOKA more than two-thousand law enforcement officers (2,116) were assaulted with firearms in 2018. About 129 were injured (6.1 percent) and 51 were killed. Unfortunately, the LEOKA doesn't offer detailed information about the encounters, nor of the outcomes for civilians. Last year the FBI launched an effort to collect data about all police uses of force that either involve their discharge of firearms or which lead to a citizen's death or serious injury. So far, nothing's been released. However, the Washington Post has been collecting information about police killings of civilians since January 2, 2015. As of October 1, 2020, their database has 5673 entries, one for each death. We downloaded the dataset. This table lists some of the pertinent findings.


Citizens were "armed" with a wide assortment of items, including cars, shovels and (yes) even pens. We included only guns and cutting instruments. Six percent (358) of those killed were unarmed.
In 2017 four academics analyzed the Post's 2015 data. Published in Criminology & Public Policy (Feb. 2017) "A Bird's Eye View of Civilians Killed by Police in 2015 - Further Evidence of Implicit Bias" concluded that race affected officer threat perceptions. "Controlling" for citywide violent crime rates, the authors concluded that non-Whites, and especially Blacks, were nonetheless significantly more likely to be shot. But more specific "places" such as areas or neighborhoods were not taken into account. As we noted in "Scapegoat" Parts I and II proactive policing normally targets areas within cities that are beset by violence, usually poverty-stricken neighborhoods that are disproportionately populated by non-Whites. As our tables in Part II demonstrate, once we "controlled" for location the influence of race and ethnicity on LAPD stops virtually disappeared.
Of course, one need not attribute outcomes such as Ms. Taylor's death – or the killings of Dijon Kizzee in Compton, Jacob Blake in Kenosha, Rayshard Brooks in Atlanta or George Floyd in Minneapolis – to racial animus to brand them as tragic mishaps. Posts in our Compliance and Force and Strategy and Tactics sections have discussed the forces that drive policing astray and suggested correctives. "Working Scared" stressed the role of personality characteristics such as impulsivity and risk tolerance. "Speed Kills" emphasized the advantage of taking one's time – preferably, from a position of cover. Chaos, a chronic fixture of the police workplace that often leads to poor decisions was the theme of "Routinely Chaotic." And when it comes to preventives there's de-escalation, a promising approach that's at the top of every chief's list.
---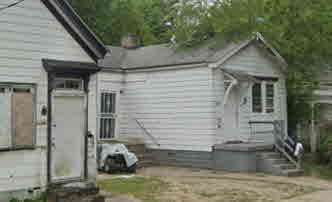 Back to Ms. Taylor's death. On March 13, 2020 Louisville police executed search warrants at 2424/5/6 Elliott Ave. (pictured here) and at her apartment, 3003 Springfield Dr. #4 (top photo). According to police, Jamarcus Glover, Ms. Taylor's one-time boyfriend, and his associate Adrian Walker (no relation to Kenneth Walker) were using the Elliott Ave. locations as "trap houses" (places where drugs are stored and sold.) Both were convicted felons out on bond awaiting trial for drug trafficking and illegal gun possession charges levied in December 2019.
Here's a summary of the justification provided in the search warrant:
Mr. Glover and Mr. A. Walker were pending trial on gun and drug charges.

In January 2020 police stopped Mr. A. Walker as he left the "trap house" and found marijuana and cash in his vehicle. In the same month a pole camera depicted numerous vehicles visiting the trap house during a brief period. There were many recorded and physical observations of suspicious behavior by both suspects in and around the trap house and of visits to a nearby rock pile they apparently used to stash drugs.

In January 2020 the affiant observed Mr. Glover and Mr. A. Walker making "frequent trips" between the trap house and Ms. Taylor's apartment. Mr. Glover had listed her apartment as his address and was using it to receive packages. [

Note:

see 12/30/20 update.] On one occasion Mr. Glover was observed taking a package from the residence to a "known drug house." Ms. Taylor's vehicle was observed parked at the trap house several times.

In conclusion, the affiant asserted that his training and experience indicated "that Mr. J. Glover may be keeping narcotics and/or proceeds from the sale of narcotics at 3003 Springfield Drive #4 for safe keeping."
In late August the Louisville Courier-Journal and Wave3 News published detailed accounts about the alleged connection between Ms. Taylor and Mr. Glover. This story drew from a leaked police report, prepared after Ms. Taylor's death, that describes the evidence detectives gathered before and after executing the March search warrants. It indicates that drugs, cash, guns and paraphernalia were seized from the trap houses and the suspects' vehicles. There are also surveillance photographs and detailed transcripts of intercepted jailhouse calls made by Mr. Glover after his arrests in December and March. Here's an outtake from a January 3, 2020 (pre-warrant) phone call between Mr. Glover and Ms. Taylor:
1123 – J. Glover calls ***-***-**** (Breonna Taylor) from booking:
J. Glover: "Call Doug (Adrian Walker) on Facebook and see where the fuck Doug at. He's got my fuckin money, riding around in my motherfucking car and he ain't even where he's supposed to be at."
B. Taylor: "You said Doug?" J. Glover: "Yeah, Big Doug."
B. Taylor: "I'll call him…Why can't I find him on Facebook? What's his name on here?"
J. Glover: "Meechy Walker."
1318 – J. Glover calls ***-***-**** (Breonna Taylor) from booking:
J. Glover: "You talk to Doug (Adrian Walker)?"
B. Taylor: "Yeah I did. He said he was already back at the trap… then I talked to him again just a minute ago to see if you had contacted him. They couldn't post bond till one."
J. Glover: "Just be on standby so you can come get me… Love you."
B. Taylor: "Love you too."
Here's part of a post-warrant phone conversation between Mr. Glover and a domestic partner who bore his child:
1307 – J. Glover calls ***-***-**** (Kiera Bradley – child's mother) from his dormitory:
K. Bradley: "So where your money at?"
J. Glover: "Where my money at? Bre had like $8 grand."
K. Bradley: "Bre had $8 grand of your money?" J. Glover: "Yeah."
J. Glover says to an unknown male that joined the call, "Tell cuz, Bre got down like $15 (grand), she had the $8 (grand) I gave her the other day and she picked up another $6 (grand)."
K. Bradley and J. Glover are arguing over him not being honest and him having money at other people's house. J. Glover says to K. Bradley, "Why are you doing this?"
K. Bradley: "Cuz my feelings are hurt."
J. Glover: "Why cuz the bread (money) was at her house?"
J. Glover: "…This is what you got to understand, don't take it wrong but Bre been handling all my money, she been handling my money... She been handling shit for me and cuz, it ain't just me."
In a post-warrant call to Mr. Walker, Mr. Glover explains why police searched Ms. Taylor's residence and why, according to Kenneth Walker (Ms. Taylor's live-in boyfriend) the officers didn't find any cash:
1720 – J. Glover calls ***-***-**** (Male – likely Adrian Walker per Accurint) from his dormitory:
J. Glover: "Where you at?" A. Walker: "You know the spot, "E"."
J. Glover: "I just watched the news nigga… They tryin act like they had a search warrant for Bre's house too."
A. Walker: "I know… The only thing I can figure out is they check that license plate. They been putting an investigation on a motherfucker."
J. Glover: They checked Bre's license plate?"
A. Walker: "That's the only thing I can think of… A motherfucker pull up on the block in the charger, that's the only thing I can think of."
J. Glover: "Who at no haters running their mouth?...That nigga (Kenneth Walker) didn't have no business doing that shit. That nigga got Bre killed nigga."
A. Walker: "You got to see like the bigger picture to it though you feel me, it's more to it than what you feelin like right now."
J. Glover: "I know, I know she was feelin me. At the end of the day everything stolen from me though, I swear I know that."
J. Glover: "…That man tell me, I watched you leave your baby momma's house. Alright if you watched me leave my baby momma's house, why would you execute a warrant at Bre's house… Bre got that charger and all this shit… Bre's paper trail makes sense for everything she got though."
J. Glover: "…I don't understand how they serve a warrant for Bre's house when nothing ties me to Bre house at all except these bonds."
A. Walker: "Bonds and cars and 2016… It's just ties though… Look at the ties since 2016, ever since Rambo (homicide victim)… and the camera right there, they see a motherfucker pull up."
J. Glover: "Yeah she (Breonna Taylor) was out there the top of the week before I went to court."
A. Walker: "They didn't even have to see her pull up, all they had to do is see that license plate… They done put two and two together… Then on top of that they go over there and find money."
J. Glover: "No, Bre don't, Bre don't, Bre don't…Bro you know how Bre do… They didn't find nothing in her house."
A. Walker: "I thought you said they found some money over there?"
J. Glover: "It was there, it was there, it was there...They didn't do nothing though that's the problem... Kenneth said ain't none of that go on."
A. Walker: "So they didn't take none of the money?"
J. Glover: "Kenneth said that none of that go on. He said Homicide came straight on the scene and they went to packaging Bre and they left."
Mr. A. Walker and Mr. Glover were released pending trial. Mr. Glover has reportedly absconded.
Go through the report. If genuine – and it certainly seems to be – it depicts Ms. Taylor as a knowing participant of Mr. Glover's drug-trafficking enterprise. There is really no gentle way to put it.
---
As a Fed your blogger obtained and participated in serving many search warrants. In his opinion, the March 2020 search warrant of Ms. Taylor's residence seems well supported by probable cause. [Note: see 12/30/20 update]. Yet neither this writer, nor anyone he knows, was ever shot at while on the job, let alone had a partner wounded. How would we have reacted under such circumstances? Would we have instantly realized that the shooter "didn't really mean it?" Could we have safely "de-escalated"? And if not, would we have accurately placed return fire?
Set warrants aside. Consider a far more common cause of innocent deaths: police pursuits. Instead of getting into specifics, California law requires that agencies establish detailed policies about when and how to chase and train their officers accordingly. (Click here for LAPD's policy.) Yet pursuits still continue to end poorly.
Really, when it comes to the more fraught aspects of policing such as pursuits or search warrants the usual preventives – rules, training, supervision – can't always be counted on to prevent horrific outcomes. Yes, there are other ways. Police occasionally abandon chases. As for search warrants, officers sometimes elect to watch, wait and intercept occupants as they leave. Naturally, doing that is resource-intensive, and should surveillance be detected it could lead to the destruction of evidence. Detaining persons also carries risk.
Be sure to check out our homepage and sign up for our newsletter
About 17 percent of Louisville's residents live in poverty. In Ms. Taylor's ZIP code, 40214, the proportion is about twenty percent. In 40211, where the "trap houses" were located, it's about thirty-four percent. Jamarcus Glover and Adrian Walker were taking advantage of a deeply troubled neighborhood for their selfish ends. Sadly, Breonna Taylor had apparently lent a hand.
Search warrants aren't the first proactive strategy to come under challenge. Most recently, "Should Police Treat the Whole Patient?" discussed the back-and-forth over stop-and-frisk and other geographically targeted enforcement campaigns, whose intrusiveness and tendency to generate "false positives" has badly disrupted police-minority community relations across the U.S.
Search warrants, though, are supposedly different. They're based on articulated evidence of criminal wrongdoing and must be approved by a judge before execution. As your blogger discovered while a Fed, they're the stock-in-trade of serious criminal investigations. Without this tool officers would be hard-pressed to combat major sources of drugs or guns. They'll undoubtedly play a key role in "Operation Legend," that new Federal-local partnership we've heard so much about. Of course, it's also essential that police avoid endangering the lives of innocent citizens. Perhaps it's time to revisit some of our more cautionary essays; say, "First Do No Harm" and "A Delicate Balance."
Yet in our ideologically charged, perhaps irreparably fractured climate, turning to the usual remedies (i.e., training, tactics, supervision) may not do. Breonna Taylor's characterization as an innocent victim of police overreach has added a bucketful of fuel to the fire. We're talking "defund" on steroids. So by all means let's quit pretending. Level with the inhabitants of our poorer, crime-stricken places about the risks of even the best-intentioned proactive policing. Give them an opportunity to opt out of, say, drug investigations and such. Of course, be sure to inform them of the likely consequences. Considering what our nation is going through, it seems to be the least we can do.
UPDATES
2/24/21 Acting on complaints that the city's police officers disproportionately stop Black motorists and pedestrians, the Berkeley (CA) City Council unanimously approved a measure that prohibits officers from making stops for minor infractions such as expired tags. "Transformative" changes, including slicing the police budget in half and tuning over traffic enforcement to civilians, are planned by summer. According to the police union president, officers will become "filing clerks."
1/6/21 Louisville PD fired Detectives Cosgrove and Gentry. Sgt. Mattingly was exonerated for use-of-force violations, and three other officers connected with the case received reprimands or one-day suspensions. In a decision that has sparked controversy, Louisville selected Erika Shields as its new permanent chief. Ms. Shields resigned as Atlanta police chief after the shooting of Rayshard Brooks.
12/30/20 Louisville police chief Yvette Gentry has moved to fire Detective Cosgrove. According to ballistics, his bullet also proved fatal to Ms. Taylor. In addition, Chief Gentry is firing Detective Joshua Jaynes, who obtained the search warrant for Ms. Taylor's residence. His affidavit stated that he was told by a postal inspector that Ms. Taylor's former boyfriend, Jamarcus Glover, was currently receiving packages at her residence. Instead, that information allegedly came through other officers. (Click here, here and here for images of the termination letter, and here for the images' source.)
11/26/20 Breonna Taylor's death is leading to a tightening of no-knock policies elsewhere. In Minneapolis, where George Floyd was killed, new rules require that officers yell "police" and "search warrant" even when "no-knock" has been authorized. To go further requires approval of the police chief and an extreme situation, such as the rescue of a hostage.
10/28/20 Bodycam video reveals that the Waukegan (IL) officer who initially encountered Tafara Williams and Marcellis Stinnette in a parked vehicle recognized Mr. Stinnette and knew that he had a warrant (click here for the clip.) But when he tried to arrest Mr. Stinnette, Ms. Williams abruptly took off at a high rate of speed. Another officer pursued the car until it ran off the road. That officer did not immediately turn on his bodycam, so his claim that Ms. Williams backed her car at him can't be visually confirmed. But he accused her of doing that moments after he shot the couple (click here for the clip.)
Under the authority of Presidential Executive Order 13929 (6/16/20) DOJ issued regulations today requiring that within ninety days all law enforcement agencies in the U.S. be certified by an authorized credentialing agency that their use of force policies (a) comply with all laws, and (b) prohibit chokeholds except when the use of deadly force is legal. These assessments should also include reviews of policies and procedures, including use of force training, de-escalation, duty to intervene when officers are acting improperly, shooting at moving vehicles, and recruitment and promotion.
10/23/20 Midnight Tuesday a Waukegan (IL) officer responded to a call about a suspicious parked vehicle. But the car, which was occupied by a man and a woman, drove away. Another officer found the vehicle parked nearby and approached on foot. That's when its driver, Tafara Williams, 20, started backing up the car. Fearing he would be run over, the officer opened fire, badly wounding Ms. Williams and killing her passenger, Marcellis Stinnette, 19. Ms. Williams denied she was trying to hurt the officer. This shooting led to demonstrations and a comparison to other recent lethal police-citizen encounters. A criminal history check revealed that a defendant whose name and age matched Mr. Stinnette had a considerable record in Waukegan, including stolen vehicle and burglary. Click here for a case printout.
10/21/20 In his first media interview, Sgt. John Mattingly addressed Breonna Taylor's mother: "There's no way I could ever tell you enough how much I wish that hadn't taken place." And although Breonna Taylor's boyfriend said he fired at the ground as a scare tactic, Mattingly said he "pushed out with two hands looking straight at me...Our postures were the same, looking at each other, when he fired that shot." Sgt. Mattingly said that a quick, surprise entry might have avoided the bloodshed.
In a joint announcement with Minneapolis police chief Medaria Arradondo DOJ unveiled a "National Response Center Initiative" intended to help Minneapolis and police across the U.S. "adapt to the wide range of challenges" posed by gangs, drugs and social problems such as homelessness and "enhance and reform policies and practices to prevent the use of excessive force."
Did you enjoy this post? Be sure to explore the homepage and topical index!
Home Top Permalink Print/Save Feedback
---
RELATED POSTS
Cop? Terrorist? Both? White on Black Fair but Firm Explaining or Ignoring?
Should Police Treat the Whole Patient? Scapegoat (I) (II) Speed Kills Routinely Chaotic
Working Scared De-escalation First, Do no Harm A Delicate Balance
---
Posted 9/7/20, updated 9/18/20
WHITE ON BLACK
Should Black citizens fear White cops?
For Police Issues by Julius (Jay) Wachtel. Jackson, Mississippi's capital city, is mostly Black. Ditto its cops. So if citizens are better off dealing with cops of their own race, a frail, elderly Black resident should have survived a minor encounter with three Black cops. But as we reported in "Black on Black" Mr. George Robinson didn't.
This time we'll explore the citizen/cop combination that's provoked protests across the U.S. For examples we'll offer two: the August 23rd wounding of Mr. Jacob Blake, a Black resident of Kenosha, Wisconsin, by a White police officer, and the killing of Mr. Dijon Kizzee, a Black resident of a Los Angeles suburb, shot dead by White Sheriff's deputies on August 31st.
---
Here's an extract from a tweet posted by Wisconsin Governor Tony Evers on August 23rd, about three hours after a White Kenosha cop shot and crippled Mr. Jacob Blake:
Tonight, Jacob Blake was shot in the back multiple times, in broad daylight, in Kenosha, Wisconsin. Kathy and I join his family, friends, and neighbors in hoping earnestly that he will not succumb to his injuries….While we do not have all of the details yet, what we know for certain is that he is not the first Black man or person to have been shot or injured or mercilessly killed at the hands of individuals in law enforcement in our state or our country.
Click here for the complete collection of compliance and force essays
However compelled Governor Evers may have felt to denounce the police, his swift opinionating virtually guaranteed that something important would be left out. And it was. When their handiwork went tragically astray, three White cops were trying to arrest the 29-year old Black man on a recently-issued warrant for felony sexual assault. A Black woman who was apparently Mr. Blake's former domestic partner accused him of breaking into her home while she slept, sexually assaulting her, then leaving with her car and a credit card.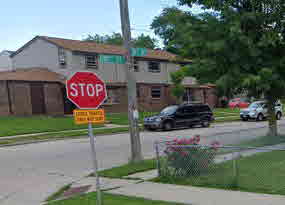 Mr. Blake remained free. On August 23rd the victim called police to complain that he was back. According to the Wisconsin Department of Justice, which is investigating the use of force, "Police Department officers were dispatched to a residence in the 2800 block of 40th Street after a female caller reported that her boyfriend was present and was not supposed to be on the premises." An account posted by the police union adds that Mr. Blake "was attempting to steal the caller's keys/vehicle." Here's our best assessment of what then took place:
Officers arrived. Radio messages indicate that they knew of the warrant. Three officers tried to intercept Mr. Blake as he walked to his car. According to the police union Mr. Blake supposedly "forcefully fought with the officers, including putting one of the officers in a headlock."

Mr. Blake apparently freed himself and kept walking. Two officers fired their Tasers but without apparent effect. A bystander who didn't see what, if anything, Mr. Blake carried said that officers commanded Mr. Blake to "drop the knife!"

Two bystander videos depict the last part of the encounter. (Click here and here.) Pistols drawn, officers followed Mr. Blake around his vehicle to the driver's side. As he approaches the door an officer grabbed him by the shirt (see above image) and when the still-noncompliant man stepped in the cop fired seven times into his back. Police claim they recovered a knife from the vehicle's floorboard, and state investigators reported that Mr. Blake admitted it was his.
Mr. Blake's lower body was paralyzed and he remains hospitalized. As for the sexual assault, he pled not guilty via video, posted a $10,000 bond and waived a preliminary hearing. Trial could take place as early as November.
Demonstrations and violence followed. As did visits by President Trump and his challenger, Mr. Joe Biden. Their views were predestined to clash. Focusing on the violence, the President praised law enforcement and the National Guard and denied that racism had infected policing. As for Mr. Blake's shooting, his opinions seemed decidedly mixed:
Shooting the guy in the back many times. I mean, couldn't you have done something different? Couldn't you have wrestled him? You know, I mean, in the meantime, he might've been going for a weapon. And, you know, there's a whole big thing there.
In a controversial follow-on Mr. Trump likened what the officer did to a golfer who "chokes" while attempting a "three-foot putt."
Mr. Biden took a different tack. Focusing on the issue of race, he met with Mr. Blake's family, and in an hour-plus speech at a local church the candidate bemoaned the plight of Black Americans who must deal with White police: "I can't understand what it's like to walk out the door or send my son out the door or my daughter and worry about just because they're Black they may not come back."
---
During the afternoon hours of August 31st L.A. County sheriff's deputies were patrolling Westmont, an unincorporated neighborhood in the hard-stricken South Los Angeles area when they came across a bicyclist reportedly committing an unspecified moving violation. And when they flagged him down he dropped the bike and took off on foot, jacket in hand. (Update: In a 9/17 news conference Sheriff's officials said that Mr. Kizzee had been riding on the wrong side of the street.)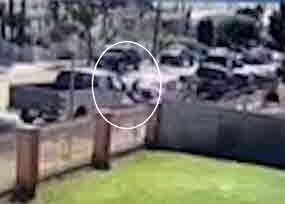 A blurry security camera video depicts deputies chasing a large, burly man as he runs down a sidewalk. There's a protracted, violent tangle during which a deputy said he was punched in the face. Dijon Kizzee, 29, managed to free himself and resumed fleeing. Deputies said that's when he dropped the bundle he was carrying. A gun supposedly fell out, and Mr. Kizzee moved as if to grab it (but didn't). Mr. Kizzee then resumed fleeing (see image) but managed only one long stride before two deputies – a supervisor and a trainee – opened fire. Mortally wounded, Mr. Kizzee fell to the ground. (Update: In a 9/17 "news briefing" Sheriff's officials said that Mr. Kizzee picked up the gun and had it in hand when the deputies fired.)
Deputies discharged as many as fifteen shots. The handgun Mr. Kizzee allegedly possessed was recovered.
---
Gunfire by Kenosha police paralyzed Jacob Blake, likely permanently. Gunfire by L.A. Sheriff's deputies killed Dijon Kizzee. Why did officers turn to lethal force?
We'll start with Kenosha. With a population of about 100,000, in 2018 its violent crime rate of 338.2 came in slightly better than the national figure (368.9). That year its murder count was…four. In 2019 killings zoomed all the way to…five. So unlike, say, Jackson or, as we go on, South L.A.'s Westmont neighborhood, its cops should have little reason to feel they're at war.
According to Kenosha police chief Daniel Miskinis it was a combination of things. An outstanding arrest warrant may have produced a "heightened awareness" that, together with Mr. Blake's resistance and possession of a knife, "changed the dynamics" of the encounter. Meaning, it made officers more likely to act defensively or, put another way, aggressively.
To be sure, individuals count. That warrant was for a crime of violence. And this wasn't the first time that Mr. Blake had violently misbehaved. According to a court file reviewed by USA Today, in 2015 Racine (Wis.) police arrested Mr. Blake after he pulled a gun in a bar and became "combative" when confronted by officers. A firearm was recovered and he was charged with five counts. However, it seems that everything was ultimately dismissed. (For a detailed account of the incident click here.)
What about the cop? Other than being White, officer Rusten Sheskey was thirty-one years old, had seven years on the job, and lacked any substantial disciplinary record. He also seemed very community-oriented. Indeed, a year-old newspaper profile depicted him in a very favorable light. Here's an outtake from his comments during the interview:
What I like most is that you're dealing with people on perhaps the worst day of their lives and you can try and help them as much as you can and make that day a little bit better. And that, for the most part, people trust us to do that for them. And it's a huge responsibility, and I really like trying to help the people. We may not be able to make a situation right, or better, but we can maybe make it a little easier for them to handle during that time.
Square that with shooting someone in the back. Your writer can't. Neither, apparently, can Mr. Joe Biden, who quickly called for the officer and his colleagues to be prosecuted.
---
L.A.'s Westmont area (2010 pop. 31,853), where the encounter between Sheriff's Deputies and Mr. Kizzee took place, is no Kenosha. Only three months earlier deputies shot and killed an 18-year old murder suspect who reportedly fired on them as he tried to get away. Westmont's most recent six-month violent crime rate of 413/100,000 (its projected full-year rate would be 826, more than twice Kenosha's) places it as the 27th most violent of Los Angeles' 272 neighborhoods. As one would expect, Westmont is also poor. A full thirty percent of its residents live in poverty, nearly three times the U.S. figure of 11.8 percent.
Might the implicit threat that Westmont presents affect officer decisions? Cops must frequently weigh the consequences to themselves and others of acting swiftly against delaying or trying to "de-escalate." Of course, the consequences of laying a wrong bet can be profound. Let's self-plagiarize:
In the uncertain and often hostile environment of the streets, officers can find it impossible to quickly choreograph and implement a peaceful response. Bottom line: "slowing down" requires that cops occasionally accept considerable risk. Should their judgment be off, they can be easily hurt or killed. That's not ideology: it's just plain fact.
Officer temperaments vary. Crucial characteristics such as impulsivity and risk tolerance are all over the map. Citizen personalities also run the gamut. Factor in the violence, gun-slinging and lack of voluntary compliance that besets hard-hit areas, and the answer to our question seems clear: how could Westmont's nasty aura not count?
We know nothing about the deputies involved other than their ranks. However, plenty is known about Mr. Kizzee. According to family members he was an "unemployed plumber" who had served time in prison but "was trying to find his way." We obtained his criminal record through the Los Angeles Superior Court website. Here's a condensed version:

Mr. Kizzee was a convicted felon. He also had felony charges pending when officers confronted him. As a felon, he was prohibited from possessing a gun, a crime for which he had already been twice convicted. He also had a track record of fighting police and trying to evade capture. Had he been again caught with a gun he would have likely been locked up for a very long time.
---
Kenosha's cops knew there was an active felony warrant for Mr. Blake. And when they stepped in he reacted violently. Taser strikes also had no more effect on Mr. Blake than on Rayshard Brooks, the Atlanta man who fell asleep in a Wendy's drive-through. As for Mr. Kizzee, he also reacted violently. At this point we don't know whether either suspect was under the influence of drugs, but their conduct resembles that of others, such as Mr. Brooks and George Floyd, whose "superhuman strength" and "lack of willingness to yield to overwhelming force" are characteristic of a syndrome that the International Association of Chiefs of Police and the American College of Emergency Physicians recognize as "excited delirium" (for more on that and a list of references click here.)
So what can be done? Deploying a less-lethal alternative such as a Taser comes to mind. Unfortunately, darts are difficult to place and can be defeated by clothing. Conducted energy devices have proven ineffective on highly excited characters. They're also clumsy and time-consuming to properly deploy, and perhaps impossibly so should encounters turn dynamic. What's more, drawing a Taser leaves an officer with nothing substantial in hand should someone draw a gun. Given the ubiquity of armed characters such as Mr. Kizzee, that's a risk officers may be reluctant to take.
Fine. But is there a way to prevent the need to use a weapon? As essays in our "Compliance and Force" section (e.g., "Making Time", "De-escalation") frequently point out, not every situation calls for police intervention, and not every refusal to comply requires a forceful response. "Slowing things down," say, by using verbal skills, can prevent tragic misperceptions, such as thinking someone is going for a gun when they're actually reaching for a cell phone. It also affords an opportunity for backup officers, supervisors and crisis intervention teams to arrive.
Sounds good. But when circumstances turn dynamic, trying to "de-escalate" can give evil-doers the opportunity to go for a gun. And it's not just cops who may be placed at risk. Failure to contain a dangerous person can easily imperil innocents. Officers must also assess how a response squares with law and policy and, perhaps just as importantly, comports with the views of the colleagues on whom they depend for support. Should things turn out poorly, flouting accepted practice can shred one's reputation. What's more, officer personalities vary. As plentiful examples attest (see, for example, "Speed Kills") when things turn dicey some cops have proven so risk-averse or impulsive that they were simply incapable of holding off.
Be sure to check out our homepage and sign up for our newsletter
Back to Mr. Blake. Consider the options should even the best cop in the world encounter someone that obstinate and violent. Had he got away there would have likely been a vehicular pursuit, with all the attendant risks to both citizens and police. Choosing not to pursue would have by no means eliminated the danger he posed. Locating and safely arresting a forewarned fugitive ties up prodigious resources and, as your blogger can personally attest, carries exceptional personal risks as well. It's for reasons such as these that in the practical, everyday world of policing, dangerous characters aren't simply "let go."
To be sure, we're just scratching the surface. From choosing whether to intervene, to deciding how best to proceed, the police decision-making calculus can prove exceedingly complex. Alas, most of us reside in pleasant, middle-class environments and rarely interact with the dangerous, non-compliant folks whom officers encounter every day. So in these ideologically charged times, our "yes, but" sentiments will probably have little effect. Even so, if we'd like to minimize poor outcomes such as the crippling of Mr. Blake or the death of Mr. Kizzee, let's work to expand our understanding of how policing happens, and why. Then by all means, let's set out to improve the practice of this fascinating and highly demanding craft. Click here for a place to start.
UPDATES
1/14/21 Jacob Blake told ABC News that he dropped a pocketknife on the ground while returning to his car. He picked it up and was about to put it in the car and surrender when he was shot. "I shouldn't have picked it up, only, considering what was going on...at the time I wasn't thinking clearly."
1/5/21 D.A. Michael Graveley announced that his office will not charge Kenosha, Wis. officer Rusten Sheskey for shooting Jacob Blake, a wanted man whom police claim was armed with a knife. According to officer Sheskey, he fired in self-defense as Mr. Blake "started turning toward him with the knife." Police are on high alert and the Wisconsin National Guard has been mobilized. A Federal Civil Rights investigation of the shooting is underway.
12/17/20 California data reveals that between 2016-2019 state residents made about 3,500 allegations of racial profiling by police. Agencies upheld a total of forty-nine complaints. LAPD sustained two out of 883, while the L.A. County Sheriff sustained two out of 146. According to LAPD, nearly eight out of ten complaints (its criteria go beyond race) were simply false. LASD reported that it took more actions against deputies than it seems, but most of the faults uncovered were not about race.
11/12/20 Prosecutors dismissed charges of third-degree sexual assault and criminal trespass against Jacob Blake. In exchange, he pled guilty to two counts of disorderly conduct. His alleged sexual assault victim was reportedly "not cooperating" with prosecutors.
11/1/20 Kyle Rittenhouse, 17, an Illinois youth, took an assault rifle bought for him by an eighteen-year old friend to a security gig they performed for a Kenosha, Wisconsin business during the protests over the police shooting of Jacob Blake. He has now been extradited to Wisconsin on charges of using that gun to kill two protesters and wound a third who allegedly chased and threatened him.
10/16/20 A review by the Los Angeles Times revealed that sixteen bicycle riders stopped for bike violations were shot by police in Los Angeles County since 2005. Eleven were killed: each was Black or Latino. Eleven of the riders were reportedly armed with guns, and a twelfth with an airsoft pistol that looked like a gun.
9/18/20 In a 9/17 news conference Los Angeles County Sheriff's officials said that Mr. Dijon Kizzee was stopped because he had been riding his bike on the wrong side of the street. They added that Mr. Kizzee picked up the gun after dropping it and had it in hand when the deputies opened fire.
Did you enjoy this post? Be sure to explore the homepage and topical index!
Home Top Permalink Print/Save Feedback
---
RELATED ARTICLES
RELATED POSTS
Want Happy Endings? Don't Chase Cop? Terrorist? Both? L.A. Wants "Cahoots"
R.I.P. Proactive Policing? Black on Black Don't Divest – Invest! Urban Ship Gold Badges
Is it Ever OK? (II) Violent and Vulnerable Punishment Isn't a Cop's Job Speed Kills
Location, Location, Location De-escalation Is it Always About Race? A Dead Marine
First, Do no Harm Making Time Neighborhoods
---
Posted 9/1/20
BLACK ON BLACK
Are Black citizens better off with Black cops?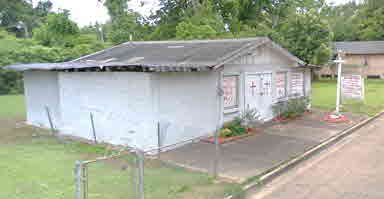 For Police Issues by Julius (Jay) Wachtel. What first drew our attention to Jackson was an article in the New York Times about the indictment of three cops for the fatal beating of a 62-year old Black man. And the story became even more compelling when we noticed that each of the accused was Black. As it turns out, so are most of Jackson's cops, including the Chief and his entire command staff.
It began on a Sunday morning, January 13, 2019. That's when passers-by discovered the body of Anthony Longino, a 62-year old Black pastor, on the steps of his modest church (photo above). He had been shot dead. A few hours later, three officers trolling for his killers spotted 62-year old George Robinson apparently dealing drugs from his car. Their official report indicates that an unidentified woman slipped Robinson cash through the window and "scurried" away. They approached and ordered Robinson out. He didn't promptly comply, so they dragged him out. According to the indictment the force used was clearly excessive, as it included "body slamming George Robinson head first into the roadway pavement as well as striking and kicking George Robinson multiple times in the head and chest."
Click here for the complete collection of compliance and force essays
Robinson, who was recovering from a stroke, collapsed and police summoned an ambulance. Attendants declared Mr. Robinson O.K. After supposedly finding "a large amount of US currency" in the vehicle but no drugs officers cited him for "failure to obey and resisting arrest" and let him go. Robinson returned to a motel room where he had been staying and apparently had several visitors. But within a few hours he was back in the hospital with a brain bleed. He died two days later.
Officers soon arrested a 22-year old man for the pastor's murder. He confessed, and within a few weeks some good old-fashioned police work led to the arrest of three accomplices, two nineteen and one twenty-three. Within a few weeks an internal investigation by Jackson P.D. and the city's civil service commission (and, supposedly, a review by the FBI) cleared the cops of wrongdoing. One remained on the job at Jackson PD while the two others transferred to the nearby Clinton Police Department. But on August 4, nearly eight months after the incident, as allegations of police abuse beset the U.S., the local D.A. charged the three cops with second-degree murder. Mr. Robinson's family also filed a lawsuit. It alleges that the officers had no reason to act as they did, as "at no time during this event was Mr. Robinson threatening harm to himself or anyone else."
---
Policing is an inherently messy enterprise with uncertain outcomes. Officer skills vary, and when we throw in the vagaries of cop and citizen temperament and the difficulties of gaining compliance some tragic endings are assured. Still, if Mr. Robinson was a criminal, he seems at worst a small-time drug dealer, and the grossly disproportionate outcome left this (thankfully, retired) practitioner's head shaking.
Mr. Robinson was apparently shuttling between a home in the the neighborhood where the encounter took place and a motel room where his girlfriend lived. Other than his being older and frail, we discovered little else of significance. As for the Jackson officers, the Free Press (hint: it's not a fan of the police) and other sources reported that the cops were part of a K-9 team that was looking for the pastor's killers. Two were involved in nonfatal shootings in 2017 and 2018 but had been exonerated of wrongdoing. Meanwhile officials in both Jackson and Clinton are steadfastly standing by their servants. "We don't want anything to do with a bad cop and if I thought these guys were bad cops, we wouldn't have hired them," said Clinton's police chief. Its mayor went so far as to suggest that the indictment might have come about because of a sweetheart deal between the Robinson family attorney and the D.A.
What's beyond a doubt is that Jackson is a very violent place. Last December, after "nearly two dozen" residents were shot in a single week, a desperate police sergeant lamented that "gun violence is just awful":
Sometimes it is just a way of life…it is definitely something important we need to work on…It is just horrible that people have to live with that…we have to take the steps to change this dramatically!... We certainty need to study this in depth and come up with some decent plans to combat it.
By any measure, the city's body count is truly astounding. This graph compares Jackson's 2018 murder rates with the nine crime-struck cities participating in DOJ's freshly-hatched "Operation Legend."

Mr. Robinson's encounter with police, and the pastor's murder that preceded it, took place in a particularly downtrodden neighborhood known as "The Washington Addition." Located within the 2nd police precinct, its median household income of $16,500 is one-quarter the national median ($60,293.) Jackson as a whole fares little better. At $37,563, its median household income is only three-fifths of the national median. In fact, nearly twenty-seven percent of Jackson's residents live in poverty, more than twice the U.S. figure (11.8 percent.)
Full stop. Posts in our blog's "Neighborhoods" section frequently remark about the relationship between income, race and crime. (See, most recently, our essay about Portland and Minneapolis). Might these factors also play a role in Jackson? We gathered precinct murder data using WLBT's homicide tracker. Counting the "dots" on its precinct maps yields 76 murders in 2018 (the UCR reported 78) and 78 in 2019. According to the Census,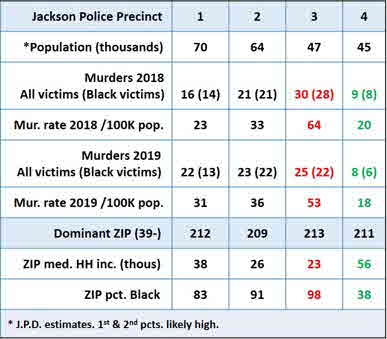 eighty-two percent of Jackson's 160,628 residents are Black. Based on the dominant ZIP's, it seems that most Blacks reside in the impoverished 1st, 2nd and 3rd precincts. Most Whites live in the comparatively prosperous 4th precinct, whose dominant ZIP boasts a median HHI of about $56,453, only slightly lower than U.S. overall.
Grab a look at the table. Compare murder frequencies and rates between precincts. And within precincts, between Blacks and non-Blacks. (The contrast would have probably been higher but for J.P.D.'s exaggerated population count for the 1st precinct, and possibly the 2nd.) Quibbles about numbers aside, Jackson's Black majority clearly faces appalling odds. Of course, the cops know that.
---
We approached this incident as we do all: tabula rasa. Still, when your author paused while building fancy tables to consider his own experiences carrying a badge, Mr. Robinson didn't strike him as much of a threat. Jackson's cops, though, work in a very unforgiving environment. When the now-indicted officers happened on someone who seemed to be taking advantage of the city's troubles, their exasperation may have led to an overly aggressive response. One that caused an old man to fall and crack his skull. That's not so dissimilar from what happened to Mr. Martin Gugino, the White septuagenarian "peace activist" whose head smashed the pavement after he was pushed aside by a White cop.
Be sure to check out our homepage and sign up for our newsletter
Might Jackson's struggle with crime and violence affect how its officers deal with citizens? Could it sometimes lead to poor decisions? Really, how could it not?
Normally this would be the place to offer correctives, but we've got another iron in the fire: Kenosha, where most cops and citizens are White. We'll have more to say about Jackson as well. Until then, keep safe!
Did you enjoy this post? Be sure to explore the homepage and topical index!
Home Top Permalink Print/Save Feedback
---
RELATED POSTS
White on Black Don't Divest – Invest! Can the Urban Ship be Steered? Gold Badges
Punishment Isn't a Cop's Job Is it Ever OK? (II) Violent and Vulnerable Speed Kills
De-escalation Is it Always About Race? A Dead Marine First, Do no Harm Making Time
---
Posted 8/16/20
"SWAT" IS A VERB
Officers join specialized teams for a reason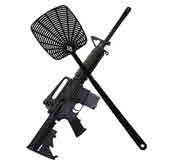 For Police Issues by Julius (Jay) Wachtel. Let's begin with an interesting quote:
Under the surface…SWAT is controlled by a group of Police Officer III+1's ("plus-ones") who glamorize the use of lethal force, and who direct the promotions of officers who share the same values while maligning the reputations of officers who do not….These Police Officer III+1's exercise influence and power in SWAT in a manner that is highly disproportionate to their rank, and they refer to themselves as the "SWAT Mafia"….
These words form but a small part of a lawsuit recently filed by LAPD Sergeant Timothy Colomey against his employer, the City of Los Angeles (L.A. Superior Court no. 20STCV28185.) In a highly detailed thirteen-page complaint, Sgt. Colomey, who helped supervise SWAT officers for over a decade, alleges that his honest criticisms about their work led to his banishment from an active role and stalled his career.
We obtained a copy of the complaint. What first caught our eye comes about a third of the way through, in paragraph number "26." That's where the good Sergeant asserts that in March 2019, while he was still active in SWAT, he informed LAPD internal affairs investigators that colleagues whom he described as members of a "SWAT Mafia" had engaged in "improper uses of force without being properly disciplined or otherwise held accountable." (Para. 26.) While these episodes aren't described, Sgt. Colomey's lawyers are said to be focusing on these three encounters:
Click here for the complete collection of compliance and force essays
Accidental death of Carlos Ocana. During the evening hours of May 24, 2014 SWAT was called to help patrol officers get a homeless man off the roof of a commercial structure in L.A.'s downtown skid row. By the time they arrived fifty-six year old Carlos Ocana was on top of a billboard that was on top of the roof. To entice him down an officer proffered a cigarette. Sure enough, Ocana came down from the billboard. But after snatching his smoke he tried to go back up. Officers had planned to grab him, but before they could a SWAT team leader fired his Taser. Struck by a dart, Ocana lost his balance and fell to the ground, tragically missing the cushions that firefighters laid down to absorb the impact should he fall. He died from his injuries.

Shooting death of Anthony Soderberg. On May 8, 2017 a woman found a strange man in her hillside home. Anthony Soderberg, 29, was "speaking to himself and referencing Jesus." She fled out a window, called police, and alerted them about unsecured guns and ammunition that were inside the home. A helicopter was called in and SWAT deployed a robot to communicate with the intruder.

What happened next is complicated, but it began inside the house, with Soderberg using one of the guns to fire at police while threatening to "kill all those SWAT officers that are out there." A gas grenade drove him outside. He exchanged fire with the helicopter and was fired on by a group of officers, all armed with rifles, who were positioned some distance away. Soderberg re-entered the home. He then left again, this time for good. Officers again opened fire. Soderberg, who may have been struck by a round, eventually wound up in a ravine. That's where he was shot dead by more rifle fire. According to a detailed review by the L.A. County District Attorney, the fatal wound was inflicted by an officer who fired from "56 yards away" when Soderberg, who had assumed a prone "praying position," suddenly moved.

Arrest of Jose Rauda. Five weeks after the Soderberg episode, on June 15, 2017, officers attempted to conduct a probation search at the residence of Jose Rauda, a 34-year old gang member. But they were met by gunfire, and Rauda ran out the back.

Two hours later SWAT team members spotted Rauda hiding in a trash can. He opened fire, wounding a police dog, then bounded into a shed. There was more gunfire, and when one of Rauda's rounds "grazed" an officer's helmet the team unleashed an eighty-round barrage. Miraculously, none struck Rauda. He eventually came out and was arrested with help from a beanbag shotgun. Rauda was convicted on multiple counts of attempted murder and got life in prison. LAPD's account of the episode is online. We couldn't find any mention that discipline was ever considered in this affair.
---
Let's analyze. We'll begin with Mr. Ocana, the homeless man who fell to his death. Clearly, the only risk he posed was to himself. To their credit, officers seemed intent on keeping him from harm. But a SWAT team leader – a senior officer with a rank just below sergeant – had "a better idea." According to the lawsuit, his sudden, uncoordinated discharge of the Taser "substantially deviated from the tactical plan" and led to the man's death.
Sergeant Colomey apparently intends to use this episode to illustrate the power and independence of these team leaders – the so-called "plus-ones" – who comprise the "SWAT Mafia." His lawsuit alleges that while they ostensibly report to supervisors such as himself, they often make decisions without consultation, flaunt use-of-force rules, and exert unseemly influence on promotions and assignments:
…the powerful Police Officer III + 1's who make up the SWAT Mafia: routinely made decisions during tactical incidents without consultation or input from their sergeants; dictated to the SWAT lieutenants which officer candidates would be selected to undergo SWAT School; and successfully pressured SWAT supervisors into failing certain candidates out of SWAT School....SWAT Mafia members had engaged in improper uses of force without being properly disciplined or otherwise held accountable…SWAT trainings conducted by SWAT Mafia members instructed SWAT officers that the use of deadly force was permissible in situations when Department policy clearly dictated that it was not.
So what was the outcome for the team leader? Perhaps surprisingly, then-LAPD Chief Charlie Beck formally admonished the officer for making an unplanned, inappropriate use of the Taser and issued a written reprimand. Astonishingly, the "plus-one" contested the wrist-slap with a lawsuit. It ultimately failed.
Both other incidents involved multiple officers discharging large volumes of rifle fire at lone suspects who were at most armed with a handgun. Concerns about the SWAT response are evident throughout the Los Angeles Police Commission's detailed review of the killing of Mr. Soderberg. Although one officer's initial six rifle rounds were ruled "in policy," three of four commissioners found that twelve other officers acted inappropriately when they fired a total of 38 rifle rounds at someone who was by then unarmed:
Officers…cited observations of a gun or dark object being held or presented by the Subject….The evidence in this case does not support the reasonableness of any of these reported observations. There were no firearms recovered outside the residence and there were no dark objects identified that could be construed as weapon….The officers' observations of the Subject were made from a considerable distance, which would have limited their ability to accurately observe and assess the Subject's actions as constituting an imminent deadly threat. Moreover, the relative proximity of the officers at the residence and APS officers to the Subject was such that it was not reasonable for these officers, from their distant location, to believe their intervention with lethal force was warranted.
Then-Chief Charlie Beck disagreed and ruled that all the force used was appropriate. After an extensive review, District Attorney Jackie Lacey took a more nuanced position. She concluded that all officers but three had fired in self-defense, the defense of others, or to "apprehend a dangerous fleeing felon." As for the three who shot Soderberg as he lay on the ground, she found "insufficient evidence to prove beyond a reasonable doubt that the shots fired…were unlawful." Mr. Soderberg's survivors have filed a lawsuit. An expert statement suggests that the plaintiffs will characterize the killing as an execution. So the last word on this conflicted episode is yet to be heard.
As for the episode involving Mr. Rauda, there was a happier ending: no one got shot despite all the gunfire. And there was a lot of that. Four officers fired a total of twelve pistol rounds and nine discharged a total of ninety-two rifle rounds. Yet the commissioners were largely pleased. All gunfire was ruled "in policy" except for three pistol shots fired by one officer as the encounter began (the officer was faulted by three of four commissioners for firing while confused and without a clear target.)
Mr. Rauda was armed throughout and repeatedly fired at police. His gunfire wounded a K-9 (don't worry, the pooch recovered) and nearly struck an officer's skull. Given all that, the incident clearly presented an easier call "politically" speaking. And until Sgt. Colomey came forward there's been no blowback.
---
More than a decade has passed since we posted "You Can't Manage Your Way out of Rampart." In the late nineties dozens of members of LAPD CRASH teams ("Community Resources Against Street Hoodlums") beat up suspects, planted evidence and flat-out lied as they combatted street gangs in the city's downtrodden Pico-Union district. (For a 300-plus page report click here.) Then there's the L.A. Sheriff's Department, whose tattooed deputy cliques (e.g., "Little Devils," "The Jump-Out Boys," "Banditoes," "Spartans," "Reapers") have prowled the Southland's high-crime unincorporated areas since the seventies.
Still, we're skeptical about attributing Sgt. Colomey's career crash to a police clique. We don't doubt that SWAT officers have flung that colorful "Mafia" term about. But when it comes to the death of Mr. Ocana, there's a readier explanation at hand. There are few working cops who haven't experienced a senior officer butting in and messing things up. As past posts suggest, the consequences can sometimes be tragic:
In October, 2014 Chicago police officers corralled a knife-wielding youth and were trying to be "patient" when a late-arriving 14-year veteran rushed in and shot him dead.

Two years later an NYPD sergeant aggressively barged in to an apartment where officers were containing a mentally disturbed woman. She ran into a bedroom and flaunted a baseball bat. He shot her dead.

And on May 25, 2020, in an episode that will live in infamy, a Minneapolis police sergeant's cold-hearted knee-on-neck move caused a man's death. Coming in after rookies had successfully corralled a suspect, the sergeant did things his way, setting off a chain of events from which we've yet to recover.
Be sure to check out our homepage and sign up for our newsletter
Neither is the presence of an officer "Mafia" necessary to explain the massive volleys fired at Mr. Soderberg and Mr. Rauda. Since they were alone, and neither was armed with a long gun, one might expect that a couple of officers would have engaged them with rifle fire. But nine? Twelve? Sgt. Colomey's civil complaint indicates that he's all about de-escalating. In our experience, though, that's not exactly where combat-ready, rifle-toting teams such as SWAT typically are. His conservative views about high-risk engagement and use of force, if true, could have placed him at odds with most everyone in SWAT. So it wouldn't be surprising if he was ostracized.
Then again, we haven't seen Sgt. Colomey at work. Is he truly as skilled as he implies? It will be interesting to see what the lawsuit reveals.
UPDATES
4/8/21 Los Angeles settled a lawsuit filed by the family of Anthony Soderberg for $1.15 million. Disagreeing with the Chief and the police union, the Police Commission ruled that the final police barrage that killed the mentally-ill man was unnecessary as he was no longer armed or presenting a threat.
3/12/21 When multiple cops unleash near-simultaneous barrages of gunfire at a suspect, are they deciding individually? Or are their trigger fingers sometimes driven by "contagion" from their colleagues? On November 23, 2020 six Oklahoma City police officers confronted Stavian Rodriguez, 15, after he and another youth robbed a gas station. Rodriguez dropped a handgun on the ground, then reached into a pocket. One officer fired a non-lethal round. Five others unleashed a barrage of pistol fire, striking Rodriguez at least thirteen times. Rodriguez died from his wounds. On March 10, 2021 a criminal complaint was filed charging those five officers with first-degree manslaughter.
Did you enjoy this post? Be sure to explore the homepage and topical index!
Home Top Permalink Print/Save Feedback
---
RELATED POSTS
Punishment Isn't a Cop's Job Gold Badges Can be the Problem Fair but Firm
Two Sides of the Same Coin Speed Kills Routinely Chaotic Homeless, Mentally Ill, Dead
L.A.S.D. Blue Meltdown in SoCal You Can't Manage Your Way out of Rampart
---
Posted 7/8/20, edited 7/9/20
VIOLENT AND VULNERABLE
Some combative citizens may be at heightened risk of death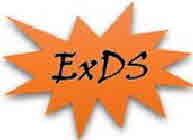 For Police Issues by Julius (Jay) Wachtel. It wasn't a chokehold that felled Robert Heston on that fateful Saturday afternoon some fifteen years ago. After going berserk, attacking his elderly parents and thrashing their home, Mr. Heston was in no mood to cooperate with Salinas (Calif.) police. He resisted violently, and they responded with a score of Taser strikes. But once the cuffs went on Mr. Heston stopped breathing. He remained unconscious and died in the hospital on the following day.
Mr. Heston had a substantial record of arrests for drug use, drunkenness, disorderly conduct and assault, so he wasn't exactly an unknown. Yet nothing in his past or in his conduct that day would justify killing him. So the onus landed square on the cops – and, collaterally, on the tool (the Taser) to which they turned. And yes, there was a lawsuit, which ultimately drew nothing from the authorities but yielded a small judgment against Taser.
Click here for the complete collection of compliance and force essays
Why did Mr. Heston die? Litigation generated a series of post-mortems. Their findings were set out in great detail in an expert's report. They were also summarized in Amnesty International's ground-breaking study of Taser-linked deaths. Here's an extract:
The first...autopsy findings listed the Taser as a cause of death...a second report...listed an enlarged heart as cause of death and the Taser as contributory causes. The third and final report...determined that cause of death was multiple organ failure due to cardiopulmonary arrest; due to methamphetamine intoxication; excited delirium; left ventricular enlargement and fibrosis, with contributory causes: Rhabdomyolysis, secondary to multiple Taser application.
We italicized "excited delirium" for a reason. Here is how that term is defined by medical specialists:
Excited delirium refers to a clinical situation that is characterized by a series of typical features that include agitation, aggression and paranoia, intolerance to pain, unexpected physical strength, failure to tire despite constant physical activity, lack of clothing, rapid breathing, profuse sweating, elevated temperature, an attraction to glass or mirrors, and failure to respond to police or medical directives.
As that article mentions, the syndrome, commonly referred to as "ExDS" has been stigmatized because some consider it a handy way to excuse police abuses. (For a comprehensive accusation to that effect check out this article in Slate.) Still, ExDS first appeared in nineteenth century medical literature as "Bell's mania," so its origin long predates current controversies in policing. And while some find it odious to attribute poor outcomes to anything other than officer misconduct, respected players in the policing community – say, IACP's Law Enforcement Policy Center – have determined that ExDS is very much real.
More importantly, that's also the view of the emergency medicine community. In a highly detailed 2009 "White Paper Report on Excited Delirium Syndrome," the American College of Emergency Physicians concluded that ExDS "is a real syndrome of uncertain etiology...characterized by delirium, agitation, and hyperadrenergic autonomic dysfunction, typically in the setting of acute on chronic drug abuse or serious mental illness." Two years later an article in the Journal of Emergency Medicine described the demeanor of persons in the throes of ExDS:
Patients present to police, Emergency Medical Services, and the emergency department with aggressive behavior, altered sensorium, and a host of other signs that may include hyperthermia, "superhuman" strength, diaphoresis, and lack of willingness to yield to overwhelming force. A certain percentage of these individuals will go on to expire from a sudden cardiac arrest and death, despite optimal therapy.
As one might expect, ExDS is also well known to emergency medical responders:
The hallmark of ExDS is agitation and violent behavior in a patient with altered mental status. Patients with ExDS often have superhuman strength, do not respond to physical compliance techniques due to increased tolerance to pain, and are highly resistant to physical restraint. On physical exam, patients will present with hyperthermia, tachycardia and tachypnea.
Officers, though, aren't clinicians. They don't work in anything that approaches a controlled environment. So while ExDS may indeed be "a medical problem masquerading as a police call" (that's what an NIJ-sponsored report calls it), the chaotic nature of street encounters may limit officers' willingness to let the fuse keep burning. After all, who says there won't be "bomb" at the other end? Bottom line: all that "superhuman strength" and unwillingness "to yield to overwhelming force" that accompanies a full-blown instance of ExDS will inevitably provoke a forceful police response.
Unfortunately, the U.S. lacks a national law enforcement use of force dataset. (In 2019 the FBI launched an effort to capture data about police use of firearms and any uses of force that caused death or serious bodily injury. For more about that click here.) However, two common tools – pepper spray and conducted energy devices (CED's, e.g., "Tasers") – have been examined in some detail. NIJ has little positive to say about pepper spray. It's not considered an effective way to prevent violence and has actually been blamed for increasing officer injuries. On the other hand, NIJ has reported that CED's can reduce harm to both citizens and police.
Yet CED's also have problems. A 2017 Reuters study reported there had been more than one-thousand deaths attributed to their use. However, the authors blamed strikes to the chest for most of the toll. According to PERF, though, some people are especially vulnerable to CED's. Among them are persons in the midst of an episode of ExDS:
Some populations currently believed to be at a heightened risk for serious injury or death following an ECW application include pregnant women, elderly persons, young children, visibly frail persons or persons with a slight build, persons with known heart conditions, persons in medical/mental crisis, and persons under the influence of drugs (prescription and illegal) or alcohol. Personnel should be trained about the medical complications that may occur after ECW use and should be made aware that certain individuals, such as those in a state of excited delirium, may be at a heightened risk for serious injury or death when subjected to ECW application or other uses of force to subdue them. [Emphasis ours]
Now that "excited delirium" has again reared its nasty head, consider the case of Zachary Bearheels. Here's a condensed version, self-plagiarized from "Three (In?)explicable Shootings":
Omaha officers came across a morbidly obese, mentally disturbed 29-year old man licking a store window. He accepted water and was let go. He was subsequently booted off a bus and caused a ruckus outside a store. Two officers got him into a squad car to go in for a mental check, but their sergeant said no. Bearheels then broke free. Two other cops jumped in. They repeatedly Tasered Mr. Bearheels and struck him on the head. Zachary Bearheels went "motionless" and died at the scene. A coroner later ruled that his death was "associated with excited delirium (psychomotor agitation, hallucinations, speech and thought disturbances, reduced response to painful stimuli, bizarre and combative behavior, and hyperthermia), physical struggle, physical restraint, and use of conducted energy device."
Many essays in our "use of force" section discuss instances that clearly line up with the syndrome. Consider, for example, the shooting death of Michael Brown, which set off major protests and helped propel a national dialogue about the use of force against blacks. But as we pointed out in "Lessons of Ferguson," Mr. Brown was not blameless. Convenience store videos depict him shoplifting cigarillos and strong-arming a clerk who tried to stop him from leaving (1:12-1:35). Witnesses confirmed that Mr. Brown acted aggressively towards the officer who ultimately killed him. (The officer claimed that Brown punched him in the face and tried to take his gun.) And an autopsy revealed sufficient cannabinoids in Brown's blood to impair judgment.
Fast-forward to...today. ExDS-like patterns are evident in two notorious recent episodes: the police killings of George Floyd and Rayshard Brooks. No, we're not saying that the officers who encountered them acted appropriately. (For our in-depth assessments check the posts.) But we are saying that factors associated with ExDS syndrome helped set the stage for the deplorable outcomes.
Mr. Floyd and Mr. Brooks had substantial criminal records. Mr. Brooks was on felony probation.

When faced with arrest, Mr. Floyd and Mr. Brooks suddenly turned non-compliant and violently engaged officers in protracted physical battles. Knock-down, drag out fights do happen in policing, but they're definitely not typical.

Mr. Floyd's death is commonly attributed to choking. His autopsy, though, revealed "no life-threatening injuries." Instead, the diagnosis cites blunt force injuries, serious pre-existing medical conditions (e.g. severe arteriosclerosis, hypertension), and a substantial amount of drugs in his blood, including fentanyl and meth. Notably, one of the rookies involved in the arrest, officer Thomas Lane, voiced concern during the struggle that Mr. Floyd was suffering from "excited delirium or whatever" (see "Punishment" and 7/9 update, below.)

A field breath alcohol test indicated that Mr. Brooks was intoxicated. He had fallen asleep in his car in a drive-through lane, so something was clearly amiss. Manner of death was reported as two gunshot wounds to the back. No toxicology results or other medical information has been released.
In-custody deaths are frequently attributed to purposeful choking by police. Undoubtedly some have happened. But a recent New York Times review of seventy arrestees who died after telling police that they couldn't breathe paints a far more complex picture:
Not all of the cases involved police restraints. Some were deaths that occurred after detainees' protests that they could not breathe — perhaps because of a medical problem or drug intoxication — were discounted or ignored. Some people pleaded for hours for help before they died…In nearly half of the cases The Times reviewed, the people who died after being restrained, including Mr. Williams [Byron Williams, Las Vegas], were already at risk as a result of drug intoxication. Others were having a mental health episode or medical issues such as pneumonia or heart failure. Some of them presented a significant challenge to officers, fleeing or fighting.
While this account seems almost a roadmap to excited delirium, the Times makes no mention of the syndrome. Still, its analysis is eerily consistent with findings reported in the American College of Emergency Physicians' "White Paper" on ExDS:
There are well-documented cases of ExDS deaths with minimal restraint such as handcuffs without ECD use. This underscores that this is a potentially fatal syndrome in and of itself, sometimes reversible when expert medical treatment is immediately available.
In an extensive "law enforcement section" the paper's authors warn of the risks posed by persons in the grips of ExDS. But they also point out that virtually any technique or physical aid that's commonly used to control violent persons, including pepper spray, batons and joint locks, can prove lethal:
Given the irrational and potentially violent, dangerous, and lethal behavior of an ExDS subject, any LEO interaction with a person in this situation risks significant injury or death to either the LEO or the ExDS subject who has a potentially lethal medical syndrome.
What about simply stepping back? That's something we've repeatedly counseled (see, for example, "First, Do No Harm.)" According to the authors, though, it may not be feasible to let persons who exhibit the symptoms of ExDS calm down on their own, "as this may take hours in a potentially medically unstable situation fraught with scene safety concerns." Officers who encounter excited delirium are thus caught in the horns of a true dilemma, as any substantial application of force might kill. All they can realistically do is recognize when ExDS might be present, try to tailor their response accordingly, and call for EMS. And even if they do it all correctly, they're hardly out of the woods:
Be sure to check out our homepage and sign up for our newsletter
This already challenging situation [ExDS] has the potential for intense public scrutiny coupled with the expectation of a perfect outcome. Anything less creates a situation of potential public outrage. Unfortunately, this dangerous medical situation make perfect outcomes difficult in many circumstances.
That paper was published during the halcyon days of 2009. More than a decade later its concerns about "potential public outrage" should policing prove lethally imperfect seem all too sentient. In these deeply polarized times it's far wiser to blame poor outcomes on the cops, and only the cops. So if you're an educator and decide to "pocket" this essay, we understand. We're not offended!
UPDATES
2/24/21 State grand jurors declined to charge any of the Rochester officers involved in the detention and death of Daniel Prude (see 9/3/20 entry.) This matter is being investigated as a possible Federal civil rights violation by the Department of Justice.
2/23/21 On August 24, 2019 Aurora (CO) police forcefully detained Elijah McClain, a 21-year old Black pedestrian whom a 9-1-1 caller reported was behaving oddly. During the struggle officers applied a carotid hold. On arrival paramedics diagnosed excited delirium syndrome (exDS) and injected a sedative (ketamine). McClain soon went into cardiac arrest and died days later at a hospital. On February 22, 2021 an official city report concluded that police did not have adequate cause to forcefully detain or restrain Mr. McClain and that officers and paramedics badly mishandled the situation.
10/16/20 The judge presiding over the prosecution of the officers accused of killing George Floyd will allow the defense to introduce evidence of a May 2019 traffic stop during which Floyd apparently swallowed a large quantity of pills and exhibited similar noncompliant behavior. Medical help was summoned and he was rushed to the hospital because of dangerously elevated blood pressure.
9/19/20 Four Shreveport, Louisiana police officers were charged with negligent homicide and "malfeasance" for using Tasers, mace and nightsticks and repeatedly "punching and kicking" a highly agitated, violent man who clearly "exhibited signs he was a mental patient in need of medical treatment." Tommie D. McGlothen Jr. , 44, a diagnosed paranoid schizophrenic, was placed in a police car on his head and left there for a prolonged period before being taken to a hospital, where he soon died. The coroner ruled the cause of death as excited delirium.
9/3/20 Seven Rochester, New York police officers were suspended in the March death of a 41-year old Black man they encountered as he ran naked through the streets. Forced restraint and use of a spit hood were blamed for causing Daniel T. Prude to stop breathing. A detailed autopsy listed several contributing factors, including severe heart and lung problems and acute PCP intoxication, and attributed his behavior to excited delirium.
7/19/20 An op-ed in The Washington Post challenges the conclusion by the American College of Emergency Physicians that excited delirium is real. It calls the syndrome "pseudoscience" that police use as a "convenient scapegoat" to justify killings that disproportionately victimize Black men.
7/9/20 Transcripts of footage from the body-cams of Minneapolis officers Lane and Kueng reveal that officer Lane voiced concern that George Floyd was suffering from "excited delirium or whatever." Officers summoned an ambulance early during the struggle but confusion about their location and the urgency caused a delay.
Did you enjoy this post? Be sure to explore the homepage and topical index!
Home Top Permalink Print/Save Feedback
---
RELATED POSTS

Slugging it Out Before the Fight L.A. Wants "Cahoots" White on Black Black on Black

Punishment Is it Ever OK (II) Workplace Without Pity Routinely Chaotic Three Shootings

Ideology Trumps Reason A Very Hot Summer Lessons of Ferguson Making Sausage

Contact Sport (I) (II) First, Do no Harm Dancing with Hooligans Sometimes a Drunk

RELATED ARTICLES AND REPORTS

American College of Emergency Physicians "White Paper Report on Excited Delirium Syndrome"

Penn State study "Special Panel Review of Excited Delirium"

Forensic Sciences editorial "Ongoing issues with the diagnosis of excited delirium"

Western Journal of Emergency Medicine article "Excited Delirium"

The Journal of Emergency Medicine article abstract "Excited Delirium"

Journal of Forensic and Legal Medicine, "Distinguishing Features of Excited Delirium Syndrome in Non-Fatal Use of Force Encounters"

EMS World article "Excited Delirium"

IACP Law Enforcement Policy Center "Need to Know" about Excited Delirium
---
Posted 6/19/20
IS IT EVER OK TO SHOOT SOMEONE IN THE BACK? (II)
In Atlanta, a "routine" encounter turns lethal.
Instantly, the deplorable outcome is attributed to race.
For Police Issues by Julius (Jay) Wachtel. Friday, June 12, Atlanta. Thanks to citizen videos, police bodycams and a fixed surveillance camera, there is little question about what took place in a Wendy's parking lot on that fateful evening. But explaining why a "no big deal call" (in cop-speak) led to the death of a citizen who had at most driven while drunk takes a lot more than pictures. To be sure, given the current, polarized atmosphere, jumping to the conclusion that it was all about race – after all, the cops were white, the citizen black – seems like a no-brainer. But policing is a complex enterprise. So let's take a closer look. (Our main sources were ABC News, the Atlanta Journal-Constitution, The New York Times, and a YouTube post by GPB Media.)
Wendy's called police about 10:3o pm to report that drive-thru customers were maneuvering around a motorist who was asleep in his car. Officer David Brosnan responded. According to ABC News, he's on his second year as a cop. Officer Brosnan woke up the driver, Rayshard Brooks, 27. Brooks was pleasant and cooperative, and on request relocated his vehicle to a parking spot.
Click here for the complete collection of compliance and force essays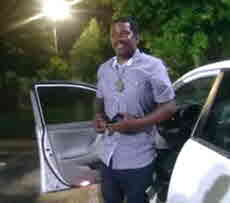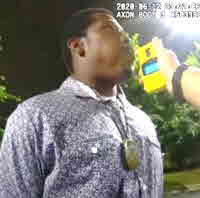 Officer Brosnan called for assistance. Officer Garrett Rolfe soon arrived. He had been with Atlanta PD since 2013. According to the Journal-Constitution, officer Rolfe, a member of the "High Intensity Traffic Team," made more than fifty DUI arrests in 2019 and was honored by Mothers Against Drunk Driving. Brosnan quickly briefed Rolfe, who took over. Brooks readily performed a field sobriety test, then agreed to a breath test, which Rolfe administered.
That's when things turned dicey. A body-cam close-up of the breath device screen depicts a reading of .108. That's 35 percent higher than Georgia's .08 limit. After telling Brooks that he had "too much to drink to be driving," Officer Rolfe instructed him to put his hands behind his back and reached for his handcuffs. (Officer Brosnan, who isn't clearly depicted on the video, walked up to help.)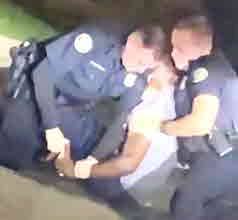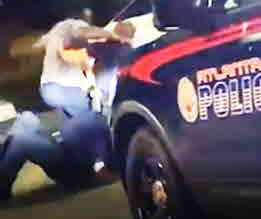 Mr. Brooks, who had already volunteered to leave his car and walk home, seemed upset. Although he initially complied, as officer Rolfe started applying the cuffs Brooks resisted with such force that he and both officers tumbled to the ground. That's when officer Brosnan pulled his Taser. Brooks promptly grabbed it. Breaking free, he then punched officer Rolfe in the face and bolted, armed with a Taser. Officer Rolfe fired his Taser at Mr. Brooks, who seemed to react. But the man ran off anyway.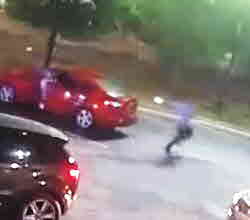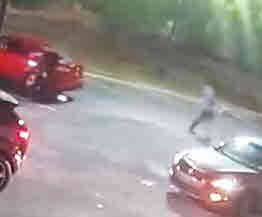 Taser in hand (newer versions can fire twice), officer Rolfe chased Brooks through the parking area. Officer Brosnan trailed far behind. During the chase, officer Rolfe switched the Taser to his left hand and drew his pistol. Momentarily, Brooks turned and fired his Taser (see left). His shot went wild. Officer Rolfe instantly discarded his Taser, aimed the pistol and fired several rounds (see right). Two struck Brooks; both in the back. (Apparently, at least one round went wild and struck an occupied vehicle in the lot.)
Brooks died at the scene. According to the medical examiner, cause of death was "two gunshot wounds of [Mr. Brooks'] back that created organ injuries and blood loss." Things moved swiftly. One day after the shooting, Atlanta Mayor Keisha Lance Bottoms announced that she did "not believe this was a justified use of deadly force" and fired officer Rolfe. At a hastily-called news conference, the mayor also announced the voluntary departure of police chief Erika Shields, a veteran Atlanta cop. Here's an extract from the chief's parting words:
Out of a deep and abiding love for this City and this department, I offered to step aside as police chief. APD has my full support, and Mayor Bottoms has my support on the future direction of this department. I have faith in the Mayor, and it is time for the city to move forward and build trust between law enforcement and the communities they serve.
Chief Shields' "offer" had been quickly accepted. Blame assessment was moving at warp speed. In a charged national atmosphere, city officials were confronting the police killing of a black citizen who had seriously harmed no one. Yet forty-five minutes after the police stepped in he lay dead. That dreadful incongruity resounded with mayor Bottoms:
I firmly believe that there is a clear distinction between what you can do and what you should do. I do not believe this was a justified use of deadly force and have called for the immediate termination of the officer.
Her sentiments were promptly echoed by Fulton County D.A. Paul Howard, whose office was considering charges against the officers:
(Brooks) did not seem to present any kind of threat to anyone, and so the fact that it would escalate to his death just seems unreasonable. It just seems like this is not the kind of conversation and incident that should have led to someone's death.
What is the law about police use of deadly force? Here are two Supreme Court cases on point:
Tennessee v. Garner (1985): Officers may not use deadly force to prevent "an apparently unarmed, non-dangerous fleeing suspect" from escaping unless there is "probable cause to believe that the suspect poses a significant threat of death or serious physical injury to the officer or others."

Graham v. Connor (1989): Four years after Garner the Justices offered a key concession, ruling that the appropriateness of force must take into account "the facts and circumstances judged from the perspective of a reasonable officer on the scene" while allowing "for the fact that police officers are often forced to make split-second decisions about the amount of force necessary in a particular situation."
Unlike the Supremes, who simply refer to "suspects," best we can tell Atlanta P.D.'s use of force policy, which cites Graham v. Connor, mentions deadly force only in relation to arresting a suspected felon (sec. 4.6.9):
Employees shall only use deadly force to apprehend a suspected felon when: (a) he or she reasonably believes that the suspect possesses a deadly weapon or any object, device, or instrument which, when used offensively against a person, is likely to or actually does result in serious bodily injury; (b) when he or she reasonably believes that the suspect poses an immediate threat of physical violence to the officer or others; (c) or when there is probable cause to believe that the suspect has committed a crime involving the infliction or threatened infliction of serious physical harm (O.C.G.A. Section 17-4-20) if the employee reasonably believes that the suspect's escape would create a continuing danger of serious physical harm to any person. (emphasis ours)
That "O.C.G.A. section" refers to a provision in the Georgia State code that addresses using deadly force to apprehend felons. Actually, the "felon" distinction probably makes little difference here. After all, Mr. Brooks became a suspected felon when he violently resisted arrest, then fired a Taser at his pursuer. According to the D.A., the task now was to decide whether Brooks posed the threat mentioned in Garner:
Specifically, (the question is if) Officer Rolfe, whether or not he felt that Mr. Brooks, at the time, presented imminent harm of death or some serious physical injury. Or the alternative is whether or not he fired the shot simply to capture him or some other reason. If that shot was fired for some reason other than to save that officer's life or to prevent injury to him or others, then that shooting is not justified under the law. (emphasis ours)
Bottom line: did officer Rolfe believe he faced a risk of "death" or "serious physical injury" at the moment that he pulled the trigger? Or did he feel that he or others "imminently" faced that risk? And either way, was that belief reasonable?
As far as the D.A. was concerned, it was not. On June 17 he filed eleven counts against the ex-cop, including murder, aggravated assault, violating his sworn oath and damaging property. Three of the aggravated assault counts and the property offense stem from his discharge of a round that went astray and struck an occupied vehicle. One count of aggravated assault accuses him of kicking the dying man. Officer Brosnan wasn't charged in relation to the actual shooting. But he faces three counts: aggravated assault, for stepping on Mr. Brooks as he lay on the ground, and two counts of violating his oath.
Let's take a closer look at Mr. Brooks. At first, he seemed pleasant and cooperative. He even referred to officer Rolfe by his first name. Those niceties ended when the cuffs were about to come on. Watch the videos – Mr. Brooks' fighting abilities are jaw-dropping. He was also a convicted felon, and currently on probation. Here's his summary table from the Clayton County superior court: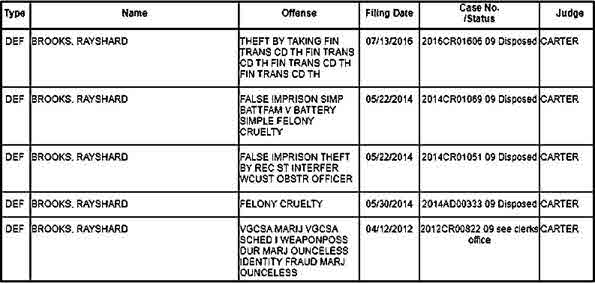 Mr. Brooks' record (click here and enter his name) dates back to 2012, when he was charged with drug and weapons crimes. Mr. Brooks pled guilty to two counts and received a suspended sentence. Two years later he pled guilty to false imprisonment, two counts of battery and one of felony cruelty to children and drew a one year prison term, to be followed by probation. In 2016 he pled guilty to five counts of theft and apparently returned to prison for another year. He was again released on probation. Apparently there were more violations, and his most recent hearing was in February 2020. (We couldn't find a detailed account of Mr. Brooks' criminal record in the American media. For a Daily Mail [U.K.] summary click here.)
An opinion piece by CNN host Van Jones, who is deeply involved in criminal justice reform, suggested that Mr. Brooks' record had everything to do with his reaction:
For a person on probation, as Brooks was, any contact with a police officer -- for any reason -- means an almost certain return to the horrors of a jail cell. It is safe to assume that Brooks did not want to go back to jail over sleeping in his car or failing a sobriety test, lose everything he had and be forced to start his life over again. In other words, we do not know why the Atlanta police officer chose to shoot a man who was running away from him. But we can guess why that man chose to run, in the first place. Brooks didn't want to lose his liberty. Instead, he wound up losing his life.
What about officer Rolfe? After all, this is the time of coronavirus. With police departments throughout the country throttling back, it's been suggested that another officer might have let the man walk home. Mr. Brooks' status as a felony probationer, though, probably made that less likely. In any case, strictly enforcing DUI isn't a bad thing. Indeed, there are innumerable police-citizen encounters every day, and nearly all turn out peaceably. But as your writer can personally attest, there are also plentiful opportunities for bad endings. Making lots of arrests can yields great stat's and plaudits from MADD. It also increases the chance that sooner or later something will go wrong. Possibly very wrong.
We've often argued that both citizen and officer personalities matter. As he interacted with Mr. Brooks and administered field sobriety and blood-alcohol tests, officer Rolfe evidenced a calm, adept, compliance-gaining approach. Yet your blogger also sensed that he was a determined, perhaps even hard-headed sort. If there was enough evidence, no way would he let Mr. Brooks go. At the end, that .108 blood alcohol cinched it. Probable cause!
In "Fair but Firm" we mentioned that, as every cop well knows, being nice doesn't always gain compliance. Even when officers do their best, some citizens – say, Mr. Brooks – still go berserk. (Our first "Is it Ever OK?" cited two such examples, both involving chronic offenders.) Yet even when things go wrong they seldom turn lethal. Was there something about officer Rolfe that made it more likely he would turn to a gun? ABC News reported that officer Rolfe was "reprimanded" for a 2016 episode in which he used a gun. One year before that, according to the Guardian, officer Rolfe and two colleagues shot a man during what a judge would call "the wildest incident," then allegedly covered it up.
But as we discussed two years ago in Part I, shooting a man in the back – it was then 25-year old Daniel Hambrick – is something more. Much more:
Cops are supposed to protect everyone – not just themselves. That, indeed, is the reason for their being. Still, whatever its justification, shooting someone in the back is and will forever remain a loathsome practice. To many observers, perhaps most, Hambrick's killing seems nothing less than an execution, and this won't change no matter how carefully we deconstruct the circumstances that led to his demise.
There's no doubt that Mr. Brooks' willingness "to go to the mat" presented substantial risks. On the other hand, while we don't consider officer Rolfe's actions per se unreasonable, the thought of shooting someone in the back remains simply abhorrent. We're certain that most cops wouldn't do it. A number of policing experts, though, believe that officer Rolfe was justified. Chris Wigginton, director of Georgia's law enforcement academy, pointed out that officer Rolfe had plenty of reason to fear that a second attempt was coming, and that it could leave him seriously injured or dead. According to the New York Times, officer Brosnan's lawyer now claims that Mr. Brooks Tasered his client during the struggle, so shooting at officer Rolfe left him with an empty gun. We didn't see that first discharge on the videos, and even if it happened it's doubtful that in the heat of things the officers were keeping count.
Along these lines, we should keep in mind that officers routinely call in the names and birthdates of whomever they stop, and dispatchers promptly check and report any criminal histories they find. During the stop Officer Rolfe may well have learned that Mr. Brooks was on felony probation. So that, too, might have influenced his actions.
Be sure to check out our homepage and sign up for our newsletter
However one evaluates what took place, avoiding such endings is something that everyone can agree on. Could more training help? Perhaps, but officer Rolfe was reportedly recently trained in use-of-force and de-escalation techniques. How about more rules? Usually we're of the opinion that there are already plenty. But weighty public policy decisions are now being made at warp speed. With poorly informed, ideologically-driven solutions looming, agencies should make every effort to speedily clean their own house. They could begin by having working officers give examples and provide opinions about regulating the use of force against fleeing suspects, including those who aren't believed to be armed with a gun.
So let's get on with that fine-tuning. And please, let there be no reason for a Part III!
UPDATES
1/22/21 An L.A. Coroner's report indicates that all five rounds that killed Andres Guardado (see 7/8, 7/10 and 1/17 entries) entered through his back. They were fired by L.A. Sheriff's deputy Miguel Vega, who was hired in 2009. He is the subject of recent complaints for excessive force and discourtesy. A licensed security guard has also accused him of loading the gun he lawfully possessed to justify charges. Deputy Vega's only known disciplinary action is a four-day suspension in 2017 for making false statements or failing to properly screen an inmate. An informer has also accused both deputies of being prospective members of the "Executioners" clique, which their lawyer denies.
1/17/21 L.A. County Sheriff's Deputies Miguel Vega and Chris Hernandez have been relieved of duty and are being criminally investigated for "kidnapping" allegedly unruly skateboarder Jesus Alegria, 24, then taking him on a "wild ride" that ended in a car crash and left Alegria bleeding from the head. In June Vega and Hernandez shot and killed Andres Guardado, a death still under investigation (see 7/8, 7/10 entries.)
1/6/21 In connection with the killing of Breonna Taylor, Louisville PD fired Detectives Cosgrove and Gentry. Sgt. Mattingly was exonerated for use-of-force violations, and three other officers connected with the case received reprimands or one-day suspensions. In a decision that has sparked controversy, Louisville selected Erika Shields as its new permanent chief. Ms. Shields had resigned as Atlanta police chief after the shooting of Rayshard Brooks.
12/3/20 On October 23 two San Bernardino (Calif.) deputies observed Joseph McLaughlin, 31 at a casino. They recognized him as a wanted parolee who did prison time for burglaries. McLaughlin ran off, and during a foot chase in hilly terrain he picked up a rock as to throw it at a deputy. The officer opened fire, striking McLaughlin him three times, in the shoulders and forearm. Questions have been raised as to whether deputies could have used other means and whether the shooting met the legal standard of "imminent threat of serious bodily injury" under P.C. section 835a. Video depicting full encounter
11/13/20 The Los Angeles County Coroner will conduct a rare, full inquest into the shooting death of Andres Guardado on June 18 by deputies who were allegedly "prospective members" of the "Executioners" deputy clique (see 7/8/20 and 7/10/20 updates). Deputies claim that they ran after Guardado after observing that he was armed and that he reached for the gun when he came to a stop.
8/24/90 In Kenosha, Wisconsin, officers followed a participant in a domestic dispute to his vehicle. They reportedly used a Taser and, as the man entered the car, repeatedly shot him. According to Wisconsin Governor Tony Eevers, "Jacob Blake was shot in the back multiple times, in broad daylight. While we do not have all of the details yet, what we know for certain is that he is not the first Black man or person to have been shot or injured or mercilessly killed at the hands of individuals in law enforcement in our state or our country." Unrest spread through the city, and arsons were reported.
7/24/20 In 2019 Colorado prosecutors declined to charge a Rifle officer who fatally shot a man in the back. Armed with a handgun and apparently suicidal, Allan George, 58, was running away from officers who sought to arrest him on a child pornography warrant. According to the D.A., George, who was once convicted of child exploitation, was heading towards a populated area, giving "reason to believe that [he] might...take cover and at some point, engage the officer or others with his handgun." One month ago Colorado prohibited officers from using deadly force "unless there is proof of imminent threat of danger and there is a substantial risk that the suspect will hurt others." George's survivors are suing.
7/10/20 The L.A. County Coroner released the full autopsy of Andres Guardado. It confirmed that all five bullets entered his back. No drugs were detected in his blood or urine.
7/8/20 A private autopsy requested by the family of an 18-year old shot dead by a Los Angeles County Sheriff's deputy concluded that he died from five bullets that entered his back. Officials claim that the youth was carrying a pistol with an illegal high-capacity magazine and ran from two deputies who approached him to talk. Andres Guardado, 18, was supposedly employed as a security guard, but was too young to carry a gun.
7/6/20 Violence continues to engulf Atlanta following the killing of Rayshard Brooks, with five shot dead and twenty-six wounded during the July 4th. weekend. One of the dead was an 8-year old girl riding in her mother's car. "The reality is this," said Mayor Keisha Bottoms. "These aren't police officers shooting people on the streets of Atlanta, these are members of the community shooting each other." Violence and the "ransacking" of the state police building led Georgia Governor Brian Kemp to deploy 1,000 National Guard troops to protect government buildings.
6/22/20 After the shooting officer Brosnan was examined at the hospital and diagnosed with a concussion suffered when his head struck the ground. Officer Brosnan is freely expressing himself to the media. He says he always tries to defuse situations, denies trying to hurt Mr. Brooks, whose death he considers tragic, and insists he is not fashioning himself as a "witness" against anyone. He also says he was unaware of Brook's record.
6/21/20 An arrest warrant was issued for "Natalie White," Brooks' alleged girlfriend, whom surveillance images connect with the fire that burned down the Wendy's restaurant where he was killed. Brooks had asked officers to let him go to "Natalie White's" apartment to sleep off his intoxication.
Did you enjoy this post? Be sure to explore the homepage and topical index!
Home Top Permalink Print/Save Feedback
---
RELATED POSTS
Want Happy Endings? Don't Chase Cop? Terrorist? Both? L.A. Wants "Cahoots" White on Black
Black on Black Violent and Vulnerable Fair but Firm Routinely Chaotic
Is it Ever OK to Shoot Someone in the Back? More Rules, Less Force?
---
Posted 4/2/20
FAIR BUT FIRM
Gaining voluntary compliance is the sine qua non
of everyday policing. Indeed, of everyday life.
For Police Issues by Julius (Jay) Wachtel. Every mom and dad remembers the day (well, maybe it was a week or a month) when their bundle of joy transformed into an obstinate brat. As we well know, that's a two-way street. How parents respond to their children's acting-outs – and how offspring react to their parents' response – can affect their relationship during the crucial teen years and well into adulthood.
To be sure, even the best parents can only do so much. Genes don't come with an instruction manual. And once environmental factors such as peers and schools come into play the ability to influence one's offspring is severely limited.
Gaining compliance – hopefully, without resorting to brute force – is crucial in areas other than parenting. Regulations that require industry to recycle waste and limit pollution would hardly be needed if businesses paid attention to their impact on public health. Alas, when the "bottom line" is in play, corporations tend to assess the benefits of social responsibility with a calculator. Governments can offer inducements such as financing and technical assistance, but in the end there seems to be no substitute for the ability to impose fines that exceed the cost of doing the right thing from the very start.
Click here for the complete collection of compliance and force essays
Big business has problems other than Uncle Sam. Their chieftains must contend with corporate boards, investors and the stock market. So what about individuals? Must they also be coerced to do the right thing? Perhaps. According to Robbins and Kaiser the likelihood of punishment for noncompliance seems to be the key motivator for paying one's taxes. ("Legitimate authorities and rational taxpayers: An investigation of voluntary compliance and method effects in a survey experiment of income tax evasion," Rationality and Society, 2018).
What about policing? Are threats of punishment the real motivator there, too? Much of the literature says "yes!" For example, Sommers and Bohns looked into so-called "consent" searches. Bottom line: citizens who comply do so because they feel pressured. ("The Voluntariness of Voluntary Consent: Consent Searches and the Psychology of Compliance," Yale Law Journal, 2019).
Just like what happens between parents and kids, police encounters involve two parties: citizens and cops, and what one says or does inevitably influences the other. In "Compliance, non-compliance and the in-between: causal effects of civilian demeanor on police officers' cognition and emotions," Nix, Pickett and Mitchell probed how citizen behavior affects what cops do. Working officers were asked to respond to three detailed vignettes: one described an encounter with a disorderly pedestrian, another a car stop for a traffic violation, and the third a dispatch about a "suspicious person." (Our post is about commonplace encounters. We won't be commenting on bank robberies and such.)
As one might predict, citizens who were "outright noncompliant" evoked the most negative sentiments. Next to compliance, officers thought that citizen demeanor was also important. "Disrespectful" citizens consistently "arouse[d] greater suspicion" and "evoke[d] more antagonistic emotions (i.e., anger, annoyance, frustration)." Citizen disrespect also heightened officers' sense of danger on dispatched calls and increased their fear during traffic stops. Researchers thought these latter effects especially important because sentiments such as anger might distort perceptions; say, turn a cell phone into a gun. (For more about that check out "A Reason? Or Just an Excuse?").
To be sure, it's a two-way street. How cops go about their job affects how citizens react. In "Compliance on demand: the public's response to specific police requests," Mastrofski, Snipes and Supina described findings of a ride-along study in Virginia. In routine encounters, being "forceful" or showing a citizen "disrespect" proved significantly less likely to yield compliance than a "friendly" (but not gushing) approach. Officers with more experience and those who reported more positive feelings about community policing also seemed to get better results.
Yet cops were only part of the puzzle. Citizens who were less "rational" proved less likely to comply. Compliance also suffered in non-public settings (e.g., someone's home) and as situations increased in severity. However, it improved when it was obvious that the citizen had done wrong.
What can police do to enhance the prospects for compliance? Nix and his colleagues suggest that realistic training exercises might help officers improve their ability to analyze risk:
…training emphasizing that bad attitudes violate no laws may help to reduce officers' reliance on the attitude test to judge civilian suspiciousness and dangerousness. Such training may also have the added benefit of helping to reduce antagonistic emotions by countering the view that a bad attitude is a moral violation.
Better risk analysis could enhance officer safety. It could also help citizens survive should they say or do something that might cause an untrained cop to become needlessly fearful. (For more about the centrality of risk tolerance to the craft of policing, check out "Working Scared.")
Mastrofski et al seemed less sanguine about the prospects for improvement, in part because of difficulties in nailing down the officer traits that really count. They did speculate, though, that cops who regularly succeeded at securing compliance might have "heightened diagnostic skills" that helps lead them down the most likely paths to a peaceful and satisfactory conclusion.
Such things have preoccupied pundits (including us) for some time. Beyond the willingness to accept risk, our "Use of Force" section is replete with posts that caution against letting the chaotic nature of the streets interfere with one's judgment. (To be sure, easier said than done.) About the need to slow down, keep one's distance and, when possible, work from a position of cover. About de-escalating. In "Three (In?)explicable Shootings" we emphasized the centrality of officer characteristics such as temperament, judgment and forbearance, which should come with experience (but sometimes don't), and of the need for training that goes well beyond the academy. Bottom line: shifts that work together should train together.
Yet even the best crafted and intentioned police work sometimes fails. While this really(!) isn't a post about the virus, the pandemic offers pertinent examples of just how difficult it can be to get citizens to give up something they prize. Consider, for example, the avid surfer who received a $1,000 fine after brushing off "numerous warnings by police and lifeguards cautioning him not to go in the water." Or the Florida pastor who assembled his flock for church services despite pleas by cops and lawyers to avoid "putting his congregation in danger of contracting the coronavirus." (He was arrested.)
Be sure to check out our homepage and sign up for our newsletter
To be sure, these characters would probably justify themselves differently. Yet their obstinacy likely shares a common psychological root. As everyone who's worked in law enforcement knows, some citizens – and that includes surfers, preachers, angry spouses and inner-city gang members – seem determined, come what may, to do what they want when they want. Consider the threat such pig-headedness could pose, and especially should a gun be around. Alas, there's no quick, street test for being shtupid (one of my dissertation chair's favorite sayings.) When that condition is diagnosed it's usually after someone gets hurt.
Ultimately, changing hearts and minds is a task for society. For civic leaders. Educational institutions. Politicians. And yes, even the clergy. Make it loud and clear: it's everyone's obligation to comply with the cops. After things have settled – and only then – complain. Until that sentiment spreads and takes hold, though, we urge that, if nothing else, officers fall back on the old "firm but fair" ditty but swap the terms around. After all, citizens usually assume that cops will be forceful. So surprise them with a pleasant and meaningful tweak. Whether it's a preacher or gangster, come in "fair" from the very start. Still, keep Mastrofski et al's findings in mind and don't overdo the sugar (that "carrot" in our online graphic.) In the real world of the streets, and seemingly everywhere else, there is sometimes no substitute for "firm."
UPDATES
6/20/20 In "Procedural Justice and Legal Compliance," Daniel Nagin and Cody Telep argue that while procedurally just treatment of citizens by police can be of social benefit, it will not necessarily increase citizens' compliance with the law or reduce lawbreaking.
In "Effects of police body cameras on citizens compliance and cooperation," Mustafa Demir, Anthony Braga and Robert Apel conclude that citizens who interact with traffic officers wearing body cameras are more likely to agree with officers and with the laws than citizens who encounter officers without cameras.
6/7/20 After heated criticism, L.A. Pride, which organizes a yearly LGBTQ parade, apologized for thoughtlessly requesting its usual LAPD permit to conduct a "solidarity" march with Black Lives Matter, as asking for law enforcement blessing "goes against the demands for systemic police reform."
Did you enjoy this post? Be sure to explore the homepage and topical index!
Home Top Permalink Print/Save Feedback
---
RELATED POSTS
When Must Cops Shoot? (II) R.I.P Proactive Policing? "SWAT" is a Verb Is it Ever OK? (Part II)
A Conflicted Mission Can the Urban Ship be Steered? COVID-19: R.I.P. Policing?
A Reason? Or Just an Excuse? Routinely Chaotic Speed Kills Three Shootings Working Scared